Press Resources

The Media Office provides journalists with various resources to assist their court reporting. Interview requests, copies of indictments, legal rulings, photographs, courtroom footage and other court related materials are accessible through the Media Office. Journalists on deadline are advised to contact ICTY by phone rather than e-mail.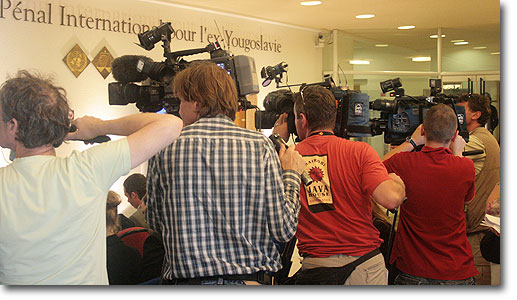 How to request an interview

To request an interview with an ICTY Official (Registry and Chambers), please contact the Media Office at: press@icty.org

For interviews with the Prosecutor please send an email to ContactOTP@icty.org or call +31705128958.

How to obtain Audio-Visual Material – Courtroom footage

All open court sessions at the Tribunal are recorded by the ICTY and made available to media and other agencies through feed points in the press area located in the Tribunal's main lobby. All media may record sessions from these points. No other recording may take place in the Tribunal by external agencies without the advance written permission of the Media Office.

Satellite
The Tribunal has no designated satellite facility for media. However, with certain key hearings – such as Initial Appearances or Judgements - the Media Office does endeavour to secure an internal facility that provides satellite broadcast from the courtrooms. Such proceedings will be placed on Intelsat with the following coordinates:

Satellite name: Intelsat 907
Position: 27.5 degrees west
DVB- PAL system
Not encrypted- in the clear
C band download frequency - 4109.809

Symbol rate – 1.384144
FEC QPSK ¾
B polarization (left circular)
Audio – 2 channels – Stereo
It is important for broadcasters to note that the Tribunal can in no way guarantee this service and all external agents are advised to use other means.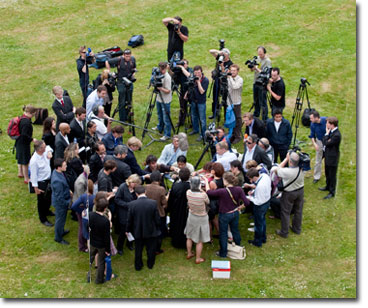 Requesting past audio visual material

The Tribunal can upon request consider providing past footage of public courtroom proceedings. If the request can be handled, there is no charge for this service. The Tribunal will, however, ask that blank tapes be provided to complete a submitted request.
Courtroom footage of courtroom activity is copyright free and credits should indicate "Footage provided courtesy of the UNICTY." It is important for external agencies to note that it is their responsibility to ensure they do not infringe copyright of any material broadcast in the courtrooms such as audio-visual material taken from television or other agencies that was submitted by parties Please note that the time needed to process a request is subject to available internal resources.

To request footage, fill out the
AV Request form
or contact the Media Office with the following information:

• Case Name/Number
• Date of proceedings
• Time frame
• Language (English, French, Bosnian/Croatian/Serbian, or Floor)
• Media type PAL: DVC, DVCam, Beta SP, VHS NTSC: VHS

How to obtain public documents and exhibits

A list of the Tribunal's most recently filed documents can be found in the Press area. Journalists can also request public exhibits that were tendered in a case which may include documents, video footage, audio recordings and photos. Requests for both public documents and public exhibits can be made by contacting the Media Office at: press@icty.org

Resources while working at the Tribunal

The Tribunal provides working areas for visiting journalists located in the lobby of the building. The working areas for journalists includes WiFi access, as well as desk space with power outlets. The Tribunal does not provide computers, nor external phone connections in this working area. In case of a high-profile media event, the Tribunal endeavours to provide extra working space to accommodate visiting journalists.

Journalists working at the Tribunal have direct access to Media Office staff to assist in their work. The Media Office can provide you with current and archived press releases, press advisories, and weekly updates.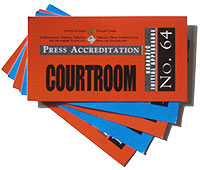 Journalists are invited to attend the Tribunal's weekly press briefing held every Wednesday at noon in the briefing room. Journalists will have access to these weekly briefings providing the latest and developing news about the Tribunal. Journalists will have the opportunity to ask their own questions to the Spokespersons of the Tribunal.

Accreditation

No specific accreditation system is required for press to enter the Tribunal. Press must, however, present photo i-d upon entry in exchange for a Media Day Pass that will provide them access to the court's public galleries and media area. In the event of a hearing or an event attracting significant attention, the Tribunal may introduce temporary accreditation, details of which will be posted on the homepage.

The Tribunal is normally open 0800-2000 Monday-Friday to the media. Media wishing to access the building outside of these hours should request advance permission from Media Office. The building is closed to media at weekends and during recess periods.

Subscribe to receive press releases, advisories and weekly updates

In order to obtain all our press releases and other media materials please fill out the ICTY mailing list registration form.