Date: 18.02.2009
Time: 12:00
Registry and Chambers:
Nerma Jelačić, Spokesperson for Registry and Chambers, made the following statement:
Good afternoon,
Turning to the courtroom schedule first, a Further Appearance has been scheduled in the case of Radovan Karadžić for this Friday 20 February 2009 in Courtroom I at 14:15.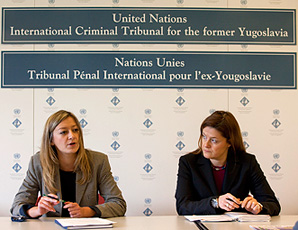 Nerma Jelačić and Olga Kavran
Vojislav Šešelj is scheduled to resume on Tuesday 24 February at 8:30 in Courtroom I, with the testimony of witness VS-1029, after which the decision to adjourn the proceedings will enter into effect. In the Šešelj contempt case, the Acting Registrar last week appointed Bruce McFarlane as amicus curiae Prosecutor.
The trials for Gotovina and others, Prlić and others, Popović and others, Momcilo Perišić and Vlastimir Ðorđevic will continue for the remainder of this week and next as scheduled.
A couple of announcements:
I would like to inform you that as of last month Michelle Paynter began carrying out her duties as the new Commanding Officer of the UN Detention Unit. Ms. Paynter is a highly experienced professional on penitentiary matters and hails from Australia. She has a broad range of experience across three states in Australia where she has managed all classifications of correctional facilities including specialist areas such as court cell complexes, prisoner and intelligence transport.
 
Lamberto Zannier, the Special Representative of the Secretary General and head of the United Nations Interim Administration Mission to Kosovo, visited the Tribunal yesterday. He met with President Patrick Robinson, Prosecutor Serge Brammertz and Acting Registrar John Hocking and acquainted himself with the work of the Tribunal.
   
Office of the Prosecutor:
Olga Kavran, Spokesperson for the Office of the Prosecutor, made the following statement:
   
The Prosecutor is in Brussels today where he will attend a meeting of the Committee of Permanent Representatives of the European Union, at the invitation of the Czech EU Presidency. Prosecutor Brammertz will respond to questions in relation to his mandate. This is part of the Prosecutor's regular contacts with officials of the European Union, one of the Tribunal's strongest supporters.
As you all know, the Prosecutor's next biannual report on the Completion Strategy will be provided to the United Nations Security Council in June.
Questions:
Asked whether there were any news regarding Serbia's compliance with the Tribunal's obligations, Olga Kavran responded that she could not comment on this issue before this afternoon, adding that Brammertz has been invited by the Czech EU Presidency to respond to questions they have on issues related to his mandate, including cooperation of states.
Asked about the time it will take for Prosecution to ensure adequate protective measures are in place for witnesses to testify in the Šešelj case, Nerma Jelačić responded that the current decision remains in place until the Trial Chamber rules otherwise, no speculation can be made on the length of the adjournment.