| | |
| --- | --- |
| Press Advisory |   |
| (Exclusively for the use of the media. Not an official document) |   |
The Hague, 13 March 2009
CT/MOW/PA364e

Momčilo Krajišnik Appeals Chamber Judgement to be Rendered on 17 March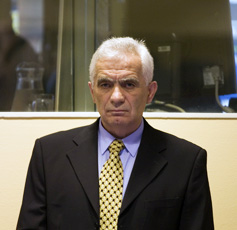 Momčilo Krajišnik
The Appeals Chamber is scheduled to render its judgement in the case of Momčilo Krajišnik, one of the highest ranking war-time members of the Bosnian Serb leadership, on Tuesday, 17 March 2009 at 12:30 in Courtroom I.
On 27 September 2006, the Trial Chamber found Krajišnik guilty of persecutions, extermination, murder, deportation and forced transfer of non-Serb civilians during the 1992-95 conflict in Bosnia and Herzegovina. He was found not guilty of charges of genocide and complicity of genocide. Krajišnik was sentenced to 27 years' imprisonment.
Krajišnik held a variety of senior positions in the Bosnian Serb leadership immediately prior to and during the war. He was the President of the Bosnian Serb Assembly, a member of the Main Board of the Serbian Democratic Party, as well as a member of the National Security Council. The Prosecution alleged that he was also a member of the Expanded Presidency of the so-called "Serbian Republic of Bosnia and Herzegovina".
 
The Trial Chamber found that there existed a joint criminal enterprise, involving Krajišnik, Radovan Karadžić and other Bosnian Serb leaders, whose aim was to "ethnically recompose the territories targeted by the Bosnian-Serb leadership by drastically reducing the proportion of Bosnian Muslims and Bosnian Croats through expulsion".
The judges found that Krajišnik's role in the commission of the crimes for which he was convicted was "crucial". "Mr Krajišnik wanted the Muslim and Croat populations moved out of Bosnian-Serb territories in large numbers, and accepted that a heavy price of suffering, death, and destruction was necessary to achieve Serb domination and a viable statehood," the judgment reads.
The Trial Chamber found Krajišnik responsible for the killing of approximately 3,000 Bosnian Muslims and Bosnian Croats through murder or extermination. The Chamber also found him responsible of participating in the forcible removal of more than 100,000 non-Serbs from a sizeable region in Bosnia and Herzegovina.
Both the Prosecution and the accused appealed the Trial Chamber judgement. Grounds of appeal were also raised by Amicus Curiae.
Krajišnik was indicted on 25 February 2000. He was arrested and transferred to the Tribunal on 3 April 2000, and stood trial from 3 February 2004 to 31 August 2006. An Appeals Hearing took place on 21 August 2008, and evidentiary hearings took place on 3, 5 and 11 November 2008.
*****
An information sheet providing a review of the case can be found at:
http://www.icty.org/x/cases/krajisnik/cis/en/cis_krajisnik_en.pdf
The Trial Chamber Judgement is available at:
http://www.icty.org/x/cases/krajisnik/tjug/en/kra-jud060927e.pdf
Courtroom proceedings can be followed on the Tribunal's website at www.icty.org
The reading of the Summary of the Judgement will be carried live.
*****
International Criminal Tribunal for the former Yugoslavia
For more information, please contact our Media Office in The Hague
Tel.: +31-70-512-5343; 512-5356 Fax: +31-70-512-5355 - Email: press [at] icty.org