| | |
| --- | --- |
| Press Release | |
| (Exclusively for the use of the media. Not an official document) |   |
The Hague, 8 September 2009
VE/MOW/PR1331e

Momčilo Krajišnik Transferred To The United Kingdom To Serve Sentence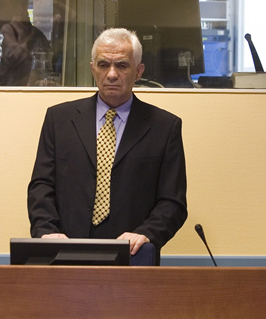 Momčilo Krajišnik
Momčilo Krajišnik, one of the highest ranking war-time members of the Bosnian Serb leadership, was transferred yesterday to the United Kingdom to serve his 20-year sentence for crimes committed against non-Serb civilians during the conflict in Bosnia and Herzegovina.
Krajišnik held a variety of senior positions in the Bosnian Serb leadership immediately prior to and during the 1992-1995 war. He was the President of the Bosnian Serb Assembly, a member of the Main Board of the Serbian Democratic Party, as well as a member of the National Security Council.
He was found to have participated in a joint criminal enterprise whose objective was to ethnically recompose the territories under the control of Bosnian Serbs by drastically reducing the proportion of non-Serbs through the commission of various crimes. A leadership component of the JCE was based in the Bosnian-Serb capital of Pale, which included Krajišnik, Radovan Karadžić and other Bosnian-Serb leaders.
On 17 March 2009, the Appeals Chamber found that Krajišnik was guilty of deportations, forcible transfer and persecutions of Bosnian Muslim and Croat civilians including women, children and elderly persons. These crimes were committed between April and December 1992 in the municipalities of Zvornik, Banja Luka, Sanski Most, Sokolac, Prnjavor, Bratunac, Bijeljina, Bosanska Krupa and Trnovo.
The Trial Chamber's earlier convictions of murder, extermination and persecution – with exception of deportation and forcible transfer – were quashed by the Appeal Chamber judgement.
An information sheet concerning the case can be found on the Tribunal's website.
Since its inception 16 years ago, the Tribunal has indicted 161 persons for serious violations of humanitarian law committed on the territory of former Yugoslavia between 1991 and 2001. Proceedings against 120 persons have been concluded.


*****
International Criminal Tribunal for the former Yugoslavia
For more information, please contact our Media Office in The Hague
Tel.: +31-70-512-8752; 512-5343; 512-5356 Fax: +31-70-512-5355 - Email: press [at] icty.org