| | |
| --- | --- |
| Press Advisory | |
| (Exclusively for the use of the media. Not an official document) |   |
The Hague, 16 October 2009
    NJ/MOW/PA382e
Radovan Karadžić Trial to Begin on 26 October 2009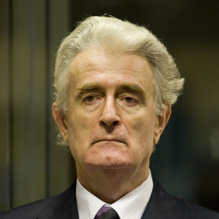 Radovan Karadžić
The trial of Radovan Karadžić is scheduled to begin on Monday, 26 October 2009 at 9:00, in Courtroom I.
Karadžić, former President of Republika Srpska, head of the Serb Democratic Party (SDS) and Supreme Commander of the Bosnian Serb Army (VRS), is one of the highest ranking officials to be indicted by the Tribunal.
He is charged with two counts of genocide and a multitude of other crimes committed against Bosnian Muslim, Bosnian Croat and other non-Serb civilians in Bosnia and Herzegovina during the 1992-1995 war.
The indictment alleges that Karadžić committed genocide when forces under his command killed non-Serbs during and after attacks on towns in more than a dozen Bosnian municipalities in the early stages of the war. After these attacks, Bosnian Serb forces rounded up tens of thousands of non-Serbs and transferred them to more than 20 detention facilities. The indictment alleges that forces under Karadžić's command tortured, mistreated, sexually assaulted and killed non-Serbs in these camps. 
Karadžić also stands accused of genocide for the murder of more than 7,000 Bosnian Muslim men in Srebrenica in July 1995. The indictment states that on 8 March 1995, Karadžić instructed Bosnian Serb forces under his command to create an unbearable situation of total insecurity with no hope of further survival for the inhabitants of Srebrenica, amongst other places.
The indictment also charges Karadžić with responsibility for a protracted campaign of shelling and sniping of civilian areas of Sarajevo, killing and wounding thousands of civilians, including children and the elderly during the 44-month siege of the capital city. 
The Prosecution alleges that Karadžić committed all of these crimes together with other members of a joint criminal enterprise with the aim to permanently remove Bosnian Muslim and Bosnian Croat inhabitants from the territories claimed to be a part of the so-called Serbian Republic.
Among other members of this criminal enterprise were Momčilo Krajišnik, Ratko Mladić, Slobodan Milošević, Biljana Plavšić, Nikola Koljević, Mićo Stanišić, Momčilo Mandić, Jovica Stanišić, Franko Simatović, Željko Ražnatović aka "Arkan" and Vojislav Šešelj.  
Karadžić's initial indictment was confirmed on 25 July 1995. He was arrested on 21 July 2008 in Serbia and transferred to the Tribunal, after more than 13 years on the run.
Since its inception 16 years ago, the Tribunal has indicted 161 persons for war crimes committed on the territory of the former Yugoslavia. The proceedings against 120 individuals have been completed.
Proceedings are currently open for 41 accused with 24 at trial stage, seven awaiting trial judgement and 14 before the Appeals chamber. Zdravko Tolimir is the only remaining Accused in custody, awaiting the commencement of trial. Two accused, Ratko Mladić and Goran Hadžić, are at large awaiting arrest and transfer to The Hague for trial.
*****
International Criminal Tribunal for the former Yugoslavia
For more information, please contact our Media Office in The Hague
Tel.: +31-70-512-8752; 512-5343; 512-5356 Fax: +31-70-512-5355 - Email: press [at] icty.org