PRESS ADVISORY

(
Exclusively for the use of the media. Not an official document.)
The Hague, 1 April 2010
CT/MOW/PA396e

Radovan Karadžić Trial to Resume on 13 April 2010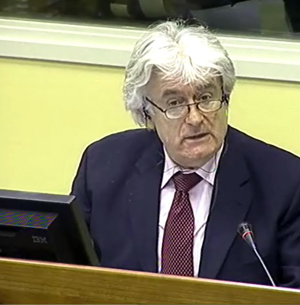 Radovan Karadžić

The trial of Radovan Karadžić is scheduled to resume on 13 April 2010 at 14:15 in Courtroom 1 with the start of the presentation of the Prosecution's evidence.

The order was made on the back of the Appeals Chamber's dismissal of Karadžić's appeal against the Trial Chamber's decision not to allow the Accused's request to postpone his trial.

Karadžić, former President of Republika Srpska, head of the Serb Democratic Party (SDS) and Supreme Commander of the Bosnian Serb Army (VRS), is one of the highest ranking officials to be indicted by the Tribunal. He stands accused of genocide, crimes against humanity and violations of the laws and customs of war committed in Bosnia and Herzegovina between 1992 and 1995.

His trial began on 26 October 2009 and the Prosecution's Opening Statements were held on 27 October and 2 November 2009. On 5 November 2009, the Trial Chamber ordered the appointment of counsel to represent the interests of the Accused after he obstructed the proceedings by absenting himself from the trial. The Trial Chamber adjourned the hearings until 1 March 2010 so as to give time to the appointed Counsel to prepare for the case.

On 1 February 2010 Karadžić filed a motion requesting a further postponement of the 1 March 2010 resumption of his trial on the grounds that his rights to adequate facilities and to choose his standby counsel had been violated by the Registrar, making it impossible for him to prepare for and participate in the trial.

The Trial Chamber denied this motion and found that it was in the interests of justice for the Accused's opening statement to take place on 1 and 2 March with Prosecution evidence to begin the following day. Karadžić met the Trial Chamber's deadline of 1 March 2010 to request certification to appeal its decision.

At the end of his opening statements on 2 March 2010, Karadžić was granted certification to appeal the Trial Chamber's decision, and the trial proceedings were then stayed until the Appeals Chamber's ruling.

In scheduling the commencement of the presentation of evidence for 13 April, the Trial Chamber noted that hearings will be held three days per week for the remainder of April and until further order. 

The Chamber further ordered that Richard Harvey, the appointed counsel in the case, be present in the courtroom on 13 April adding that his further role in these proceedings shall be clarified at that stage.

Information on media accreditation for the resumption of trial will be available next week.
*****
International Criminal Tribunal for the former Yugoslavia
For more information, please contact our Media Office in The Hague
Tel.: +31-70-512-8752; 512-5343; 512-5356 Fax: +31-70-512-5355 - Email: press [at] icty.org