(Exclusively for the use of the media. Not an official document)
The Hague, 15 May 2012

VE/CS/PR1501e

President Meron denies Mladić defence motion for disqualification of Judge Orie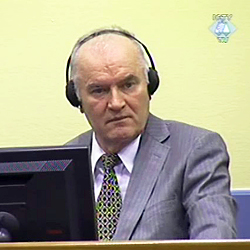 Ratko Mladić
The President of the Tribunal, Judge Theodor Meron, today denied the defence motion seeking disqualification of Judge Alphons Orie and a stay of proceedings.
The President considered that, "after review of each of Mladić's arguments for Judge Orie's disqualification and Judge Orie's responses thereto, I am not satisfied that Mladić has demonstrated that a reasonable observer, properly informed, would reasonably apprehend bias, and I accordingly find Mladić's request for Judge Orie's disqualification to be unmeritorious."
Ratko Mladić's trial will therefore commence on Wednesday, 16 May 2012 at 9.00 as previously scheduled with the opening statement of the Prosecution.
The full text of the decision is available here.
*****
International Criminal Tribunal for the former Yugoslavia
For more information, please contact our Media Office in The Hague
Tel.: +31-70-512-8752; 512-5343; 512-5356 - Email: press [at] icty.org ()
Follow ICTY on Twitter and Youtube