(Exclusively for the use of the media. Not an official document)
The Hague, 13 June 2012
VE/CS/
PR1509e

ICTY President expresses concern over the detention of ICC staff in Libya and urges release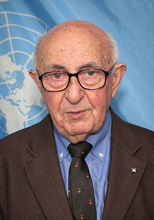 Judge Theodor Meron
Today, the President of the International Criminal Tribunal for the former Yugoslavia, Judge Theodor Meron, issued a statement expressing his serious concern over the on-going detention of staff members of a sister criminal tribunal, the International Criminal Court (ICC), in Libya:
"The detention of ICC staff members on mission to Libya for over six days already is unacceptable, especially in light of the Libyan government's legal obligation, under Resolution 1970 of the United Nations Security Council, to cooperate with the ICC and facilitate its mission in Libya. The visit of the four staff members had been ordered by an ICC Pre-Trial Chamber and that order should be fully respected. I wish to join the ICC President in urging the immediate release of the ICC staff members."
The four staff members have been detained since 7 June 2012.  
 
*****
International Criminal Tribunal for the former Yugoslavia
For more information, please contact our Media Office in The Hague
Tel.: +31-70-512-8752; 512-5343; 512-5356 - Email: press [at] icty.org ()
Follow ICTY on Twitter and Youtube