| | |
| --- | --- |
| Press Release | |
| (Exclusively for the use of the media. Not an official document) |   |
The Hague, 26 May 2011
OTP/1412e

Tribunal Welcomes the Arrest of Ratko Mladić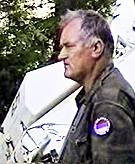 Ratko Mladić
The Tribunal welcomes the announcement today of the arrest of Ratko Mladić in Serbia, after he evaded arrest for 16 years. Mladić was indicted in 1995 by the Office of the Prosecutor for genocide, crimes against humanity and war crimes allegedly committed during the 1992 to 1995 conflict in Bosnia and Herzegovina.
The Tribunal looks forward to his expeditious transfer from Serbia to The Hague, following the completion of relevant judicial proceedings required by Serbian law. After transfer of custody to the Tribunal, Mladić will be detained pending his initial appearance before a judge. At the initial appearance, Mladić will be given an opportunity to enter a plea to each of the charges brought against him in the indictment.
Although charged with grave crimes, Mladić, like all other Accused before the Tribunal, is presumed innocent until proven guilty. This is in accordance with the Tribunal's Statute which guarantees the universally recognised right to a fair trial.
The arrest of Mladić is a milestone in the Tribunal's history and brings the institution closer to the successful completion of its mandate, with Goran Hadžić remaining the sole fugitive out of a total of 161 indictees. To date, proceedings have concluded against 126 persons. Proceedings are currently ongoing for 34 accused.
***
Amended Indictment

Case information sheet
For any further information please contact the Media office at +31 (0) 7 512 8752 / 5343 or Nerma Jelačić, Spokesperson for Registry and Chambers at +31 (0) 6 5357 8006

*****
International Criminal Tribunal for the former Yugoslavia
For more information, please contact our Media Office in The Hague
Tel.: +31-70-512-8752; 512-5343; 512-5356 Fax: +31-70-512-5355 - Email: press [at] icty.org
Follow ICTY on Twitter and Youtube