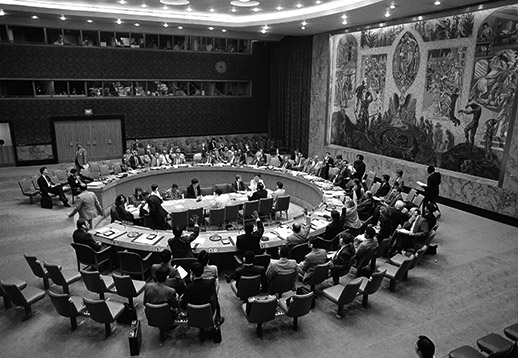 The late 1980s and early 1990s witnessed dramatic political and social change across eastern Europe and the Soviet Union with the collapse of the majority of communist systems and resurgence of nationalism. In Yugoslavia – properly referred to as the Socialist Federal Republic of Yugoslavia up until formally dissolving in 1992 – a series of economic and political crises led ultimately to the violent break up of the country.
In the early 1990s, a brief flare up of hostilities in Slovenia was soon followed by brutal conflicts in Croatia and Bosnia and Herzegovina. The chronology of the wars in the former Yugoslavia was completed with armed conflicts in Kosovo and the Former Yugoslav Republic of Macedonia (FYROM) in 1998-99 and 2001, respectively.
"An international tribunal for (...) prosecuting persons responsible for serious violations of international humanitarian law committed in the territory of the former Yugoslavia."
The mass atrocities committed first in Croatia and later in Bosnia and Herzegovina spurred the international community into action. As early as September 1991, the United Nations took note of the situation and urged parties to the conflict to abide by international law. Thousands were injured and killed and hundreds of thousands were displaced.
Reports about massacres of thousands of civilians, rape and torture in detention camps, terrible scenes from cities under siege and the suffering of hundreds of thousands expelled from their homes, moved the UN in late 1992 to establish a Commission of Experts to examine the situation on the ground.
In its report, the Commission documented horrific crimes and provided the Secretary-General with evidence of grave breaches of the Geneva Conventions and other violations of international humanitarian law. Its findings led the Security Council to decide that it would establish an international tribunal for persons responsible for these crimes in order to stop the violence and safeguard international peace and security.
On 25 May 1993, the UN Security Council passed resolution 827 formally establishing the International Criminal Tribunal for the former Yugoslavia, known as the ICTY. This resolution contained the Statute of the ICTY which determined the Tribunal's jurisdiction and organisational structure, as well as the criminal procedure in general terms. This was the first war crimes court established by the UN and the first international war crimes tribunal since the Nuremberg and Tokyo tribunals. This date marked the beginning of the end of impunity for war crimes in the former Yugoslavia.