| | |
| --- | --- |
| Press Advisory | |
| (Exclusively for the use of the media. Not an official document) |   |
The Hague, 12 May 2010
JKE/MOW/PA402e
Boškoski & Tarčulovski Appeals Judgement To Be Rendered on 19 May 2010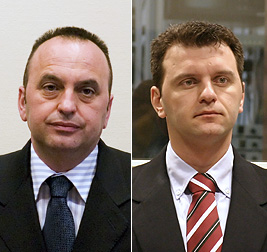 Ljube Boškoski & Johan Tarčulovski
The Appeals Judgement in the case of Ljube Boškoski, former Macedonian Minister of the Interior and Johan Tarčulovski, involving crimes committed against ethnic Albanians in the village of Ljuboten near the Macedonian capital Skopje, is scheduled to be rendered on Wednesday 19 May at 9:30 in Courtroom I.
In July 2008, the Trial Chamber found Tarčulovski, a former police officer, guilty of ordering, planning and instigating crimes committed between 12 and 15 August 2001 when a Macedonian police unit under his control entered the village of Ljuboten, shooting and killing six unarmed ethnic Albanians and severely mistreated 13 other residents in one house and 10 residents in another house. At least 12 houses in the village were set on fire and a large number of Albanian men fleeing from the village were subjected to cruel treatment by other police at a checkpoint, and later, at several police stations in Skopje.
In particular Tarčulovski was found guilty of the murder of Rami Jusufi, Sulejman Bajrami and Muharem Ramadani, ordering, planning and instigating the destruction of property of the 12 ethnic Albanian residents, as well as the cruel treatment of 23 Albanians in two separate incidents. Tarčulovski was sentenced to 12 years' imprisonment.
Boškoski was acquitted of charges of command responsibility for failing to investigate the crimes and to ensure those responsible are punished. The Chamber found that while the evidence revealed a 'serious failure of the functioning of the police and the responsible Macedonian authorities at the time, it has not been established that Ljube Boškoski failed to take the necessary and reasonable measures for the punishment of the police'. 
On 4 November 2008 the Prosecution filed its appeal brief in respect of Ljube Boskoski. The Prosecution did not appeal the Trial Chamber judgement for Tarčulovski. On 12 January 2009, the Defence of Tarčulovski filed its appeal brief. On 2 April 2009, the Defence of Tarčulovski filed its amended notice of appeal. The appeal hearing took place on 29 October 2009.
The initial indictment against Boškoski & Tarčulovski was issued on 9 March 2005 and made public on 15 March 2005. Boškoski was placed in the Tribunal's custody on 24 March 2005 and was released following the Trial Chamber verdict in July 2008. Tarčulovski has been in the Tribunal's custody since 16 March 2005.
   
This is the only case related to the Macedonian conflict heard by the ICTY. The Tribunal has indicted 161 persons for war crimes committed on the territory of the former Yugoslavia. Proceedings against 121 individuals have been completed.
*****
International Criminal Tribunal for the former Yugoslavia
For more information, please contact our Media Office in The Hague
Tel.: +31-70-512-8752; 512-5343; 512-5356 Fax: +31-70-512-5355 - Email: press [at] icty.org