| | |
| --- | --- |
| Press Advisory | |
| (Exclusively for the use of the media. Not an official document) |   |
The Hague, 12 October 2011
VE/MOW/PA464e

Dragomir Pećanac Contempt of Court Further Initial Appearance 19 October 2011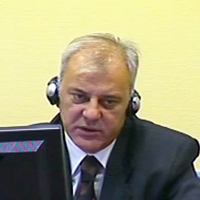 Dragomir Pećanac
Dragomir Pećanac's further initial appearance will be held on Wednesday, 19 October 2011 at 9:00 a.m. in Courtroom I. 
Dragomir Pećanac, former Security and Intelligence Officer of the Main Staff of the Army of the Republika Srpska, has been charged with contempt of the Tribunal for failing to comply with, or to show good cause why he could not comply with, a subpoena in which he was ordered to testify in the case of Zdravko Tolimir. His initial appearance took place on Monday, 10 October 2011, when he did not enter a plea.
* * *
The hearing will be broadcast live on the Tribunal's website.
A copy of the Scheduling Order is available at the following link.


*****
International Criminal Tribunal for the former Yugoslavia
For more information, please contact our Media Office in The Hague
Tel.: +31-70-512-8752; 512-5343; 512-5356 Fax: +31-70-512-5355 - Email: press [at] icty.org ()
Follow ICTY on Twitter and Youtube