| | |
| --- | --- |
| Press Advisory | |
| (Exclusively for the use of the media. Not an official document) |   |
The Hague, 9 September 2009
    NJ/MOW/PA378e

Florence Hartmann Judgement To Be Rendered On 14 September 2009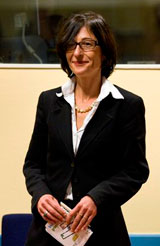 Florence Hartmann
The Specially Appointed Chamber will render its judgement in the contempt case of Florence Hartmann on Monday, 14 September 2009, at 9:30 in Courtroom I.
Hartmann, a one-time spokesperson for a former Tribunal Prosecutor, is charged with contempt for allegedly willfully disclosing information in knowing violation of an order of a Chamber.
Hartmann is alleged to have authored a book and an article, published in 2007 and 2008, that disclosed information relating to confidential decisions of the Tribunal's Appeals Chamber in the case of Slobodan Milošević.
The Specially Appointed Chamber issued an Order in lieu of an Indictment on 27 August 2008. Hartmann's initial appearance was held on 27 October 2008. At her further appearance on 14 November 2008, a plea of not guilty was entered on her behalf.
The trial took place on 15, 16 and 17 June and 1 July 2009. Closing arguments were heard on 3 July 2009.
*****
International Criminal Tribunal for the former Yugoslavia
For more information, please contact our Media Office in The Hague
Tel.: +31-70-512-8752; 512-5343; 512-5356 Fax: +31-70-512-5355 - Email: press [at] icty.org