| | |
| --- | --- |
| Press Advisory | |
| (Exclusively for the use of the media. Not an official document) |   |
The Hague, 19 August 2011
VE/MOW/PA446e

Goran Hadžić's Further Initial Appearance to be held on 24 August 2011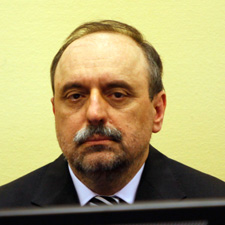 Goran Hadžić
Goran Hadžić's further initial appearance is scheduled to be held on Wednesday, 24 August at 3:00 pm in Courtroom III.
Goran Hadžić, former President of the self-proclaimed Republic of Serbian Krajina (RSK), is charged with a number of crimes committed in eastern Slavonia, Croatia, from June 1991 to December 1993, including persecutions, murder, imprisonment, torture, inhumane acts, cruel treatment, deportation and wanton destruction.
Hadžić was arrested on 20 July 2011 and his initial appearance was held on 25 July, during which he declined to enter a plea to the charges he faces.
Hadžić was the last remaining fugitive of the total of 161 persons indicted by the Tribunal.
******
The hearing will be broadcast live on the Tribunal's website.
Background information on Goran Hadžić's case is available at the following link.
For further information please call: +31 (70) 512 -8752 or -5343.

*****
International Criminal Tribunal for the former Yugoslavia
For more information, please contact our Media Office in The Hague
Tel.: +31-70-512-8752; 512-5343; 512-5356 Fax: +31-70-512-5355 - Email: press [at] icty.org ()
Follow ICTY on Twitter and Youtube