The Hague, 30 August 2010
ICTY launches new web feature providing direct access to latest filings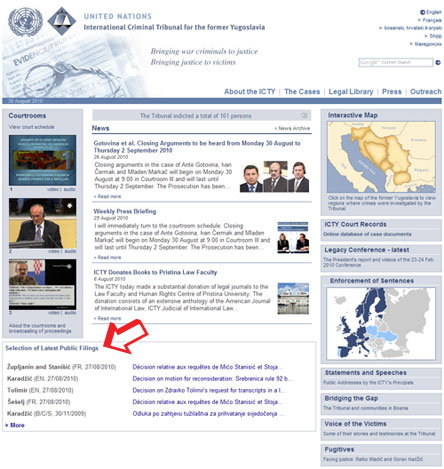 The ICTY has launched a new website feature to further facilitate public access to the Tribunal's legal library. Available on the homepage of this website, the Selection of Latest Public Filings provides users direct access to public documents recently filed in all ongoing cases at the Tribunal.
Designed to improve services to groups and individuals regularly following the Tribunal, the Selection of Latest Public Filings is part of a wider effort to uphold the principles of judicial transparency and accountability.
The new feature showcases documents already available in The Cases section, including key decisions as well as indictments, judgements, trial briefs and transcripts. These documents may also be accessed through the Court records database, which continues to provide a wider range of documents including motions, exhibits and other public filings.
Users are welcome to provide feedback by using this form.