| | |
| --- | --- |
| Press Advisory | |
| (Exclusively for the use of the media. Not an official document) |   |
The Hague, 22 November 2010
FT/MOW/PA412e

ICTY Staff in Football Action For World AIDS Day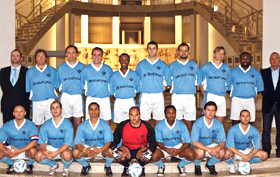 ICTY football team

Members of the media are invited to join the Tribunal on Friday, 26 November as it sends off its football team across the English Channel for a five-day tour in the United Kingdom. The UN Workers Football Team will be playing a series of friendly games in an effort to help eradicate stigma against people living with HIV/AIDS and who play sports.
 
From 27 to 30 November, the UN Workers Football Team will play against the UK Members of Parliament, the Trade Union Congress, as well as teams from Oxford and Cambridge Universities.
The UK football tour is part of the ICTY Staff Union's recently launched social campaign S'porting Lives. The first campaign hopes to raise awareness of the unwarranted stigma people living with HIV/AIDS face when trying to participate in sports.
S'porting Lives' campaign will conclude on World AIDS Day, 1 December, in Cape Town, where S'porting Lives has collaborated with Treatment Action Campaign (TAC), a leading HIV/AIDS organisation in South Africa. The TAC team will play a local team to support S'porting Lives' international cause.   
The UN team began training in October 2010, and is comprised of players of 14 nationalities, representing all organs of the Tribunal, including the Defence. It is a team of legal professionals, support staff and interns who have come together, volunteering their own time and money, to raise awareness for a common cause. It is supported by HIVsport, Educational Sports Forum, FIFPro and the Professional Footballers Association.
The ICTY Registrar John Hocking will send off the team at 14.00 on Friday, 26 November at the Tribunal main entrance. The media are invited to cover the event and help the ICTY in this notable cause on the eve of the World AIDS Day. Footage of the team's practice games, Friday's event and consequent activities will be made available by the Media Office upon request. 
    * * *
To learn more about S'porting Lives and the UN Workers Football Team UK Tour, visit:
http://www.icty.org/x/file/Press/PR_attachments/sportinglives.pdf

*****
International Criminal Tribunal for the former Yugoslavia
For more information, please contact our Media Office in The Hague
Tel.: +31-70-512-8752; 512-5343; 512-5356 Fax: +31-70-512-5355 - Email: press [at] icty.org
Follow ICTY on Twitter and Youtube