PRESS ADVISORY

(
Exclusively for the use of the media. Not an official document.)
The Hague, 6 April 2010
CT/MOW/PA397e

Media Accreditation for the Start of Prosecution Case in the Trial of Radovan Karadžić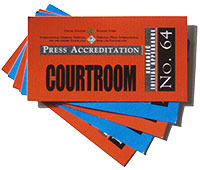 The trial of Radovan Karadžić is scheduled to resume on Tuesday, 13 April in Courtroom I at 14:15, with the start of the Prosecution case.

Karadžić, former President of Republika Srpska, head of the Serb Democratic Party (SDS) and Supreme Commander of the Bosnian Serb Army (VRS), is one of the highest ranking officials to be indicted by the Tribunal.

Requests for accreditation will be accepted for the afternoon hearing of Tuesday, 13 April and the morning hearings of Wednesday, 14 April and Thursday, 15 April.

Names of accredited journalists will be published on the website by Friday, 9 April at 12:00. Accreditations must be collected on Tuesday, 13 April between 9:30 and 12:00 from the Tribunal's main entrance. Journalists are advised to keep their accreditation ticket throughout their stay.

Members of the media are requested to familiarise themselves with the official procedure for gaining access to the ICTY main building and courtrooms.

*****
International Criminal Tribunal for the former Yugoslavia
For more information, please contact our Media Office in The Hague
Tel.: +31-70-512-8752; 512-5343; 512-5356 Fax: +31-70-512-5355 - Email: press [at] icty.org