Press Advisory
(Exclusively for the use of the media. Not an official document)
The Hague, 30 January 2012
VE/CS/PA487e
Milan Tupajić trial to begin on 3 February 2012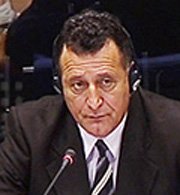 Milan Tupajić
The trial of Milan Tupajić, charged with contempt of the Tribunal for failing to testify in the trial of Radovan Karadžić, will commence on Friday, 3 February at 09:00 in Courtroom I.
One hearing has currently been scheduled for this trial. The Defence will call Milan Tupajić as its only witness. The Chamber is not expected to call any witnesses.
An order in lieu of an indictment for contempt was issued confidentially by the Trial Chamber on 30 November 2011. This set out that Tupajić was informed on 5 October 2011 and 8 November 2011, respectively, of the contents of two subpoenas dated 23 September 2011 and 3 November 2011, and of his obligation to appear before the Chamber or to show good cause why he could not comply with the two subpoenas. He is accused of having knowingly and willfully interfered with the administration of justice by refusing to comply with the Chamber's subpoenas.
A warrant for the arrest and order for surrender of the Accused were issued on 30 November 2011. Tupajić was arrested by Bosnian authorities on Tuesday, 13 December 2011.
His initial appearance was held on 16 December 2011 during which he pleaded not guilty.
* * *
Video: Initial Appearance
********
International Criminal Tribunal for the former Yugoslavia
For more information, please contact our Media Office in The Hague
Tel.: +31-70-512-8752; 512-5343; 512-5356 - Email: press [at] icty.org ()
Follow ICTY on Twitter and Youtube