Exclusively for the use of the media. Not an official document)

The Hague, 1 February 2012
LP/OTP/1478e
President Meron meets with Dr. Valentin Inzko, High Representative for Bosnia and Herzegovina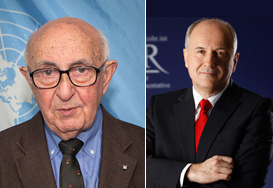 President Theodor Meron and Valentin Inzko,
High Representative for Bosnia and Herzegovina
The President of the International Tribunal for the former Yugoslavia, Judge Theodor Meron, met today with Dr. Valentin Inzko, High Representative for Bosnia and Herzegovina.
During their meeting, the High Representative expressed his strong support for the work of the War Crimes Chamber of the Court of Bosnia and Herzegovina in Sarajevo in its current composition and competency.
President Meron recalled his own involvement in the establishment of the War Crimes Chamber, which began operations in 2005. He commended the War Crimes Chamber for its role in ending impunity and its work in the pursuit of justice and in the promotion of the rule of law in the former Yugoslavia. President Meron expressed his strong hope that the work of the Chamber in the adjudication of cases involving grave war crimes would continue with its current composition and competence.

*****
International Criminal Tribunal for the former Yugoslavia
For more information, please contact our Media Office in The Hague
Tel.: +31-70-512-8752; 512-5343; 512-5356 - Email: press [at] icty.org ()
Follow ICTY on Twitter and Youtube