| | |
| --- | --- |
| Press Release | |
| (Exclusively for the use of the media. Not an official document) |   |
The Hague, 05 July 2010
NJ/MOW/1357e

President Robinson Visits Croatia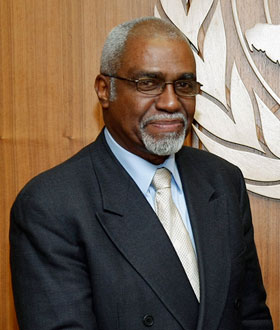 ICTY President Patrick Robinson

The President of the Tribunal, Judge Patrick Robinson, is visiting Croatia this week at the invitation of the Supreme Court of Croatia.
During the three-day visit commencing today, the President will meet with Branko Hrvatin, Chief Justice of the Supreme Court. He will also hold a round table with select judges of the Supreme Court. 
The visit is part of President Robinson's continued efforts to intensify knowledge sharing and cooperation with local judiciaries as key part of the Tribunal's legacy.
Judge Robinson will also meet President Ivo Josipović, Justice Minister, Ivan Simonović and Head of the Ministry of Justice Office for Cooperation with International Criminal Courts, Gordan Markotić as well as select representatives of the international community and nongovernmental sector.
*****
International Criminal Tribunal for the former Yugoslavia
For more information, please contact our Media Office in The Hague
Tel.: +31-70-512-8752; 512-5343; 512-5356 Fax: +31-70-512-5355 - Email: press [at] icty.org