| | |
| --- | --- |
| Press Advisory | |
| (Exclusively for the use of the media. Not an official document) |   |
The Hague, 22 July 2011
PA/440e
Prosecutor Serge Brammertz to meet with the Press at 16:30 on Friday, 22 July 2011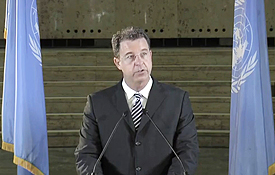 Prosecutor Serge Brammertz
Prosecutor Serge Brammertz will meet with the press today at 16:30 at the ICTY in The Hague.
After the Prosecutor's statement, he will be available to answer questions.
The Registrar John Hocking will thereafter be available to answer questions from the media.
Seats will be allocated on a first-come-first-served basis. Media wishing to attend are requested to bring their press card and photo ID. Journalists should arrive early to allow sufficient time for security screening.