| | |
| --- | --- |
| Press Advisory | |
| (Exclusively for the use of the media. Not an official document) |   |
The Hague, 30 June 2011
VE/MOW/PA437e
Ratko Mladić Further Initial Appearance – Accreditation Procedure Closed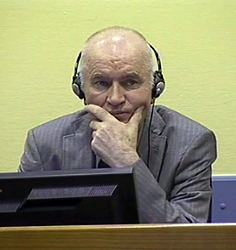 Ratko Mladić
The accreditation procedure for journalists wishing to attend the further initial appearance of Ratko Mladić scheduled for Monday, 4 July 2011 has now closed.
Final media information and accreditation lists will be posted today on the Tribunal's website after 17:00, at http://www.icty.org/sid/10675 as well as at the court's main entrance.
Two different types of accreditation will be provided to as many journalists as possible first for access to the lobby of the Tribunal and courtroom's public gallery and second for access only to the lobby of the Tribunal.
There is only a restricted number of seats available to journalists in the public gallery. There will be enough seats available in the lobby where the hearing will be broadcast live on large screens.
*****
International Criminal Tribunal for the former Yugoslavia
For more information, please contact our Media Office in The Hague
Tel.: +31-70-512-8752; 512-5343; 512-5356 Fax: +31-70-512-5355 - Email: press [at] icty.org