APPEALS CHAMBER
PRESS RELEASE
(Exclusively for the use of the media. Not an official document)
The Hague, 30 May 2013
MS/CS/PR1568e
Sentence upheld in contempt case against Vojislav Šešelj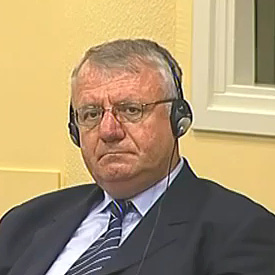 Vojislav Šešelj
The Appeals Chamber today rejected Vojislav Šešelj's appeal in his contempt of court case, and affirmed his two year conviction for failure to remove confidential information from his website in violation of orders of a Chamber.
Šešelj, the leader of the Serbian Radical Party, is on trial before the Tribunal for alleged war crimes and crimes against humanity committed between 1991 and 1994 against the non-Serb population from large parts of Bosnia and Herzegovina, Croatia and Vojvodina, Serbia.
In his appeal against the Judgement of the Contempt Trial, Šešelj requested the Appeals Chamber to reverse the Judgement and enter an acquittal. He submitted that the Contempt Trial Chamber denied his right to a defence and a fair trial, specifically by limiting his right to a case manager, thus preventing him from presenting his defence at trial. Šešelj claimed that the Chamber violated his rights by: (i) refusing him the assistance of a case manager and failing to provide a clear and reasonable answer to his request for a case manager, which violated the principle of equality of arms and thus his right to a fair trial; (ii) infringing his right to communicate with his legal advisor and his case manager; and (iii) issuing an unfair sentence.
The Appeals Chamber found that the Contempt Trial Chamber committed an error of law in failing to "provide a reasoned opinion" to Šešelj regarding its refusal of his request for the assistance of a case manager. The Appeals Chamber concluded however that this error had not invalidated the Judgement. The Appeals Chamber noted that Šešelj sought the assistance of a legal assistant and a case manager "for the purpose of establishing a list of questions to be asked to him during his examination-in-chief as a witness, and to prepare in advance for the filing of an appeal" and that he "intended neither to call witnesses apart from his own testimony, nor to tender exhibits at trial. Therefore, the Appeals Chamber is of the view that Seselj did not demonstrate how a legal advisor was insufficient to accomplish the above-mentioned tasks, which are more befitting a legal advisor than a case manager."
With respect to his alleged violation of privileged communication, the Appeals Chamber decided that it was not within its jurisdiction to review the decisions regarding questions of access by legal support staff to confidential information, which was in the purview of the Registry.
Finally, the Appeals Chamber rejected Šešelj's claim that the sentence was unduly severe, and underlined that the Contempt Trial Chamber "acted within its discretion as provided by the Statute in issuing a sentence based on the facts underlying the charges."
Judge Güney and Judge Tuzmukhamedov appended a joint separate and partially dissenting opinion.
On 9 May 2011, Trial Chamber II issued an order in lieu of an indictment which initiated contempt proceedings against Vojislav Šešelj for failing to remove confidential information from his personal website in violation of orders of a Chamber. A public version of the order in lieu of indictment was issued on 24 May 2011. The final and operative version of the indictment was issued confidentially on 29 March 2012, with a public version issued on 5 April 2012. On 17 April Šešelj pleaded not guilty to the charge, the trial started on 12 June and closed on 18 June 2012. The trial judgement was issued on 28 June 2012, and Šešelj filed his appeal on 18 July.
This was the third trial for contempt of the Tribunal against Vojislav Šešelj. In the first contempt case against him, completed on 19 May 2010, Šešelj was convicted to 15 months of imprisonment for disclosing the personal details of protected witnesses in a book he authored. In the second contempt case, completed on 31 October 2011, Šešelj was sentenced to 18 months' imprisonment for disclosing confidential information pertaining to protected witnesses in another book he authored. Both books were among those at issue in the third contempt case.
The Tribunal regards the inviolability of its decisions on protective measures as an essential element of fair trial process and the rule of law. Several persons who have attempted to interfere with the judicial process in the Tribunal by revealing confidential information have been prosecuted.
---
The Spokesperson for Registry and Chambers, Magdalena Spalińska, can be reached on +31 (0)6 5127 1242 or +31(0)70 512 5066 and spalinska [at] un.org
For further information please call the Media Office at +31 (70) 512-8752 or -5343 or -5356