| | |
| --- | --- |
| Press Advisory | |
| (Exclusively for the use of the media. Not an official document) |   |
The Hague, 12 September 2011
VE/MOW/PA456

Shefqet Kabashi Judgement to be rendered on 16 September 2011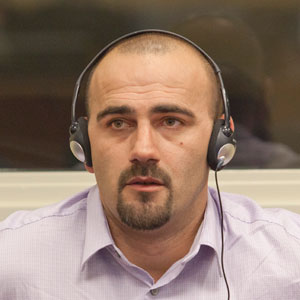 Shefqet Kabashi
The Trial Chamber's Judgement in the contempt of court case of Shefqet Kabashi will be rendered on Friday, 16 September at 3:30pm in Courtroom 1.
Kabashi was charged with contempt of court for repeatedly refusing or failing to answer questions in June and November 2007 while testifying before the Trial Chamber in the case of Ramush Haradinaj and others. Kabashi pleaded guilty to all charges on 26 August 2011.
Kabashi is a prosecution witness in the re-trial of the Ramush Haradinaj et al. case as his testimony relates to the defendants' alleged responsibility for crimes committed at the headquarters of the Kosovo Liberation Army (KLA) and the prison in Jablanica/Jabllanicë. Haradinaj, former KLA Commander and Prime Minister of Kosovo, and his two co-Accused, Idriz Balaj and Lahi Brahimaj, are being re-tried on six counts of the indictment relating to the torture and murder of prisoners in the KLA-run camp in Jablanica/Jabllanicë. When ordering a partial re-trial of the case in July 2010, the Appeals Chamber found that the Trial Chamber had erred in failing to secure Kabashi's testimony, and that of one other witness, thereby depriving the Prosecution of vital support for its case.
Kabashi was arrested on 17 August 2011 by the Dutch authorities and transferred to the Tribunal's custody on 18 August 2011. His initial appearance was held on 19 August 2011 and a sentencing hearing was held on 31 August 2011.
 
* * *
A copy of the amended indictment and a Case Information Sheet can be found at the following link.
A copy of the Appeals Chamber Judgement in the Haradinaj et al. case can be found at the following link.

*****
International Criminal Tribunal for the former Yugoslavia
For more information, please contact our Media Office in The Hague
Tel.: +31-70-512-8752; 512-5343; 512-5356 Fax: +31-70-512-5355 - Email: press [at] icty.org ()
Follow ICTY on Twitter and Youtube