| | |
| --- | --- |
| STATEMENT |   |
| (Exclusively for the use of the media. Not an official document.) |   |
The Hague, 17 November 2011
 

Statement of the President of the Tribunal – Judge Theodor Meron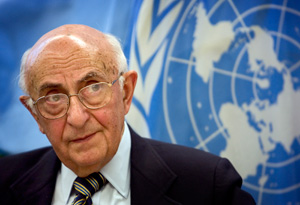 Judge Theodor Meron
I am honoured to assume the Presidency of the ICTY today for a second time. I take office during a period when the Tribunal has been much strengthened by the outstanding work of my immediate predecessors, Judges Patrick Robinson and Fausto Pocar. I am immensely grateful for their efforts.
As we move towards the final years of the Tribunal's existence, there is much of which we should be proud. In addition to concluding proceedings for 126 accused, the Tribunal has made unprecedented contributions to the development of international criminal law and procedure. It has also served as an important model for other international courts and provided valuable assistance to national judiciaries trying war crimes cases. In this latter regard, I note in particular the excellent work of national judiciaries in the region of the former Yugoslavia. Remarkably, every living individual under indictment by the Tribunal has now been arrested, a significant achievement in itself.
Much remains to be done as the Tribunal completes its mandate. The Tribunal is still exceptionally busy, with proceedings ongoing against 35 persons – 18 at the trial level in seven separate cases, and 17 at the appellate level in six cases. I will be working closely with relevant stakeholders to ensure that these proceedings are concluded in a timely fashion while upholding the highest standards of fairness. I will also be focused on smoothly transferring functions from the Tribunal to the Residual Mechanism established by the Security Council.
As both a judge and a long-time scholar of international humanitarian law, I know that the crimes over which the Tribunal has jurisdiction are not without precedent. Horrific war-time atrocities appear throughout recorded history. What has changed in the past two decades, however, is the international community's commitment to ending impunity for such acts. The Tribunal is the manifestation of this commitment; its successes would not be possible without the continued support of the international community. I know I speak for all Judges and staff in expressing gratitude for this assistance, and in reiterating our pledge that the Tribunal will continue to serve as an embodiment of the international community's noblest aspirations for justice.
*****
International Criminal Tribunal for the former Yugoslavia
For more information, please contact our Media Office in The Hague
Tel.: +31-70-512-8752; 512-5343; 512-5356 Fax: +31-70-512-5355 - Email: press [at] icty.org ()
Follow ICTY on Twitter and Youtube