| | |
| --- | --- |
| Press Release | |
| (Exclusively for the use of the media. Not an official document) |   |
The Hague, 2 September 2009
NJ/MOW/PR1330e

Three Permanent Judges Sworn In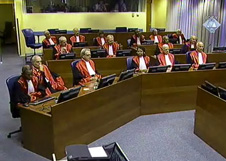 ICTY Judges during swearing-in ceremony
Three permanent judges were sworn in today before the Tribunal, replacing three outgoing judges from Belgium, the United Kingdom and the Caribbean.
Judges Guy Delvoie (Belgium), Howard Morrison (United Kingdom) and Sir Burton Hall (The Bahamas) were appointed by the UN Secretary-General in accordance with Article 13bis of the ICTY Statute. Their appointments are effective as of 1 September, 31 August and 7 August, respectively, until 31 December 2010 or until the completion of the cases to which they will be assigned if sooner.
The three new Judges replace Judges Christine Van Den Wyngaert, Lord Iain Bonomy and Mohamed Shahabuddeen who have resigned from the ICTY.
President Patrick Robinson welcomed Judges Delvoie, Morrison and Hall and expressed his gratitude to the outgoing judges for their important contribution to the work of the Tribunal.  
The Tribunal has 16 permanent judges, as well as 12 ad litem judges who are appointed to sit on a specific trial. The biographies for all judges can be found on the Tribunal's website at www.icty.org/sid/151.


*****
International Criminal Tribunal for the former Yugoslavia
For more information, please contact our Media Office in The Hague
Tel.: +31-70-512-8752; 512-5343; 512-5356 Fax: +31-70-512-5355 - Email: press [at] icty.org