TRIBUNAL
PRESS RELEASE
(Exclusively for the use of the media. Not an official document)
The Hague, 5 March 2013
JKE/CS/PR1549e
Tribunal's Outreach Programme launches second phase of high school presentations in Croatia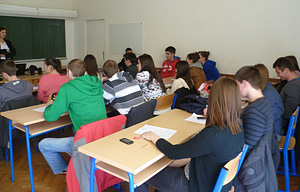 The Tribunal's Outreach Programme launched the second phase of its youth education project in Croatia this week with a presentation yesterday to 25 students at the Gimnazija Antuna Vrančića high school in Šibenik.
'The presentation was very good. We have been provided with lots of information about the functioning of the Tribunal that we are not able to learn from media coverage' said one student following the presentation. School education specialist Ante Bubačić praised the initiative, stating that 'similar presentations should also be organised for the teaching staff and history teachers'.
Through this region-wide project the Tribunal aims to reach out to young people in the former Yugoslavia and raise their interest in the Tribunal's mandate and wider issues of transitional justice and post-conflict reconstruction that will shape their region for many years to come. The students will learn about the cases relating to Croatia that have been completed before the Tribunal, the way in which they have contributed to the establishment of facts about the crimes, as well as the influence the ICTY has had on the development of the rule of law in the region.
High school presentations will be held throughout this week in Gospić, Zadar, Obrovac and Knin and later in the school year in schools in eastern Croatia. A series of university presentations is planned to begin in Croatia in May.
The first phase of the Tribunal's youth outreach project was held from December 2011 to October 2012, and over 2,000 high school and 1,500 university students from Croatia, Bosnia and Herzegovina, Serbia, Kosovo, Montenegro and the former Yugoslav Republic of Macedonia participated. The second phase of the project, which began in Bosnia and Herzegovina in February 2013, will build upon previous achievements and lessons learnt to strengthen the impact of the project.
As the ICTY moves towards the completion of its mandate, the Outreach Programme is intensifying its efforts to ensure local communities are able to access information on the Tribunal's achievements. In doing so, the Outreach Programme seeks to promote a greater understanding of the Tribunal's work and to cement its legacy throughout the region of the former Yugoslavia.
The Outreach Programme benefits from the continuous support of the European Union and its work with young people is generously supported by the Finnish government.