TRIBUNAL
PRESS RELEASE
(Exclusively for the use of the media. Not an official document)
The Hague, 14 May 2013
MS/CS/PR1561e
Tribunal marks 20th anniversary of its establishment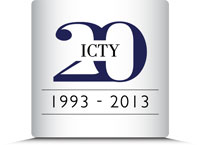 The Tribunal will be marking the 20th anniversary of its establishment on Monday, 27 May at 14:45 in the main lobby, followed by the opening of an exhibition and a reception in The Hague's City Hall Atrium at 17:30. The ICTY came into being pursuant to Resolution 827 (1993) adopted by the United Nations Security Council on 25 May 1993.
The event at the Tribunal will be held in the presence of His Majesty King Willem-Alexander of the Netherlands and attended by senior Tribunal officials, including President Theodor Meron, Prosecutor Serge Brammertz, and Registrar John Hocking, along with The Hague Mayor Jozias van Aartsen and Secretary-General of the Ministry of Foreign Affairs Renee Jones-Bos.
The ceremony will feature a keynote speech by United Nations Under-Secretary-General for Legal Affairs Patricia O'Brien, as well as reflections from past and current Tribunal officials on the history and achievements of the ICTY.
At the City Hall Atrium of The Hague, ICTY President Meron and Mayor van Aarsten will open an exhibition commemorating the 20 years of the Tribunal's efforts to end impunity for the crimes committed in the former Yugoslavia.
The exhibition will highlight significant moments of the ICTY's two decades of existence, including the apprehension of the fugitives, the Tribunal's role in establishing the facts about the crimes, and the outreach efforts towards the communities of the former Yugoslavia.
---
The event at the Tribunal will be carried live through the Tribunal's website.
Due to strict space limitations, journalists will be not able to cover the event from inside the lobby. Broadcasters will be able to obtain the feed from break-out boxes outside the Tribunal's building.
Broadcasters and photographers wishing to cover the event at the Tribunal should email press [at] icty.org">press [at] icty.org by Wednesday, 22 May, 17:00.
All media are invited to cover the opening of the exhibition in the Atrium and those interested should email the above address by the indicated day and time.
Emails should contain the name of the media outlet, the journalist's full name, passport number and contact details.