PRESS ADVISORY
(Exclusively for the use of the media. Not an official document)
The Hague, 2 July 2014
CT/CS/PA545e
Tribunal President to visit the Republic of Croatia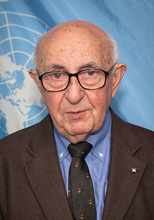 The Tribunal's President Theodor Meron will pay an official two-day working visit to the Republic of Croatia (Croatia) on 6 and 7 July 2014 to discuss the achievements of the ICTY and the launch of The Hague branch of the Mechanism for International Criminal Tribunals.
The President is scheduled to hold meetings with Croatian Government officials including President Dr. Ivo Josipović, Premier Zoran Milanović and Minister of Justice Orsat Miljenić.
In addition, President Meron will attend a dinner hosted by Mr Branko Hrvatin, President of the Supreme Court of Croatia, and a working lunch hosted by Professor Vesna Pusić, Ph.D., First Deputy Prime Minister and Minister of Foreign and European Affairs. 
This will be the President's first working visit to Croatia during the period of his current presidency.