Exclusively for the use of the media. Not an official document)

The Hague, 15 December 2011
CT/CS/PA483e

Tupajić Contempt of Court Initial Appearance 16 December 2011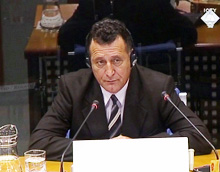 Milan Tupajić
Milan Tupajić's initial appearance will be held tomorrow, 16 December at 3:00 p.m. in Courtroom III. 
Milan Tupajić, former chief of the crisis staff and president of the Serb municipality of Sokolac, has been charged with contempt of the Tribunal for failing to comply with, or to show good cause why he could not comply with, two subpoenas in which he was ordered to testify in the case of Radovan Karadžić.
A warrant for the arrest and order for surrender of the Accused were issued on 30 November 2011. Tupajić was arrested by Bosnian authorities on Tuesday, 13 December 2011.

For further information please call: +31 (70) 512 -8752 or -5343.
International Criminal Tribunal for the former Yugoslavia
For more information, please contact our Media Office in The Hague
Tel.: +31-70-512-8752; 512-5343; 512-5356 Fax: +31-70-512-5355 - Email: press [at] icty.org ()
Follow ICTY on Twitter and Youtube