| | |
| --- | --- |
| Press Release | |
| (Exclusively for the use of the media. Not an official document) |   |
The Hague, 25 January 2010
JKE/MOW/PR1344e

UN Under-Secretary General for Legal Affairs Visits the Tribunal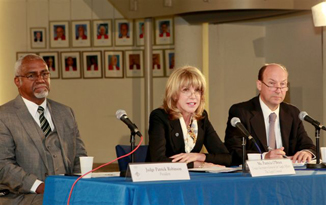 UN Under-Secretary General for Legal Affairs Ms O'Brien, President Patrick Robinson and Registrar John Hocking

Patricia O'Brien, the Under-Secretary General for Legal Affairs of the United Nations, is visiting the Tribunal from 25 to 27 January.
During the visit she will meet with senior officials of the ICTY to discuss the Tribunal's mandate and its completion strategy.
Ms. O'Brien is meeting with the President of the Tribunal Judge Patrick Robinson, the Vice-President Judge O-Gon Kwon, the Prosecutor Serge Brammertz and the Registrar John Hocking.
She will be briefed on the progress of trials pending before the ICTY, the strategy for the completion of the Tribunal's mandate as well as the institution's plans to preserve its legacy in the region of the former Yugoslavia and in the wider international setting. Matters pertaining to the residual mechanism of the Tribunal will also be discussed.
Ms. O'Brien will also address the Tribunal's staff and take their questions at a town hall meeting.

*****
International Criminal Tribunal for the former Yugoslavia
For more information, please contact our Media Office in The Hague
Tel.: +31-70-512-8752; 512-5343; 512-5356 Fax: +31-70-512-5355 - Email: press [at] icty.org