| | |
| --- | --- |
| Press Advisory | |
| (Exclusively for the use of the media. Not an official document) |   |
The Hague, 18 February 2011
MP/MOW/PA417e


Vlastimir Đorđević Judgement To Be Rendered On 23 February 2011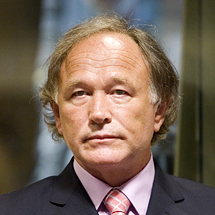 Vlastimir Đorđević
The Trial Chamber judgement in the case of Vlastimir Đorđević, a former senior Serbian police official charged with crimes against humanity and war crimes committed against Kosovo Albanian civilians in 1999, will be rendered on Wednesday, 23 February at 14:15 in Courtroom I.
Đorđević, former Assistant Minister of the Serbian Ministry of Internal Affairs (MUP) and Chief of its Public Security Department (RJB), is accused of participating in a joint criminal enterprise in 1999, the aim of which was to change the ethnic balance of Kosovo to ensure Serbian dominance in the territory.
According to the charges, this was to be achieved by a widespread campaign of terror and violence against ethnic Albanians, which included deportations, murders, forcible transfers and persecutions.
Đorđević is accused of being responsible for Serbian police units and personnel operating in Kosovo in 1999. He is alleged to have directed, encouraged or supported operations by the Serbian police in which hundreds were killed and around 800,000 Kosovo Albanians were deported from Kosovo.
The trial began on 27 January 2009 and concluded with closing arguments on 13 and 14 July 2010. The Prosecution has asked for a sentence ranging from 35 years' to life imprisonment. The Defence has asked for his acquittal.
In the 199 days of hearings, a total of 115 Prosecution witnesses and 28 Defence witnesses were called.
Since its establishment, the Tribunal has indicted 161 persons for serious violations of humanitarian law committed on the territory of the former Yugoslavia between 1991 and 2001.  Proceedings against 125 have been concluded. Proceedings are currently ongoing for 34 Accused.
*****
Media representatives wishing to attend the judgement should contact the Press Office at press [at] icty.org and provide the full name of the journalist and the media outlet.
Media representatives wishing to request the satellite broadcast can contact the Press Office at +31 70 512 8752.
An information sheet on the case can be found at:
http://www.icty.org/x/cases/djordjevic/cis/en/cis_djordjevic_en.pdf 
*****
International Criminal Tribunal for the former Yugoslavia
For more information, please contact our Media Office in The Hague
Tel.: +31-70-512-8752; 512-5343; 512-5356 Fax: +31-70-512-5355 - Email: press [at] icty.org ()
Follow ICTY on Twitter and Youtube