| | |
| --- | --- |
| PRESS ADVISORY | |
| (Exclusively for the use of the media. Not an official document.) |   |
The Hague, 1 November 2011
JKE/MOW/PA470e

Vojislav Šešelj Closing Arguments to be heard from 5 March 2012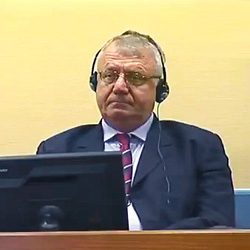 Vojislav Šešelj
Closing arguments in the case of Vojislav Šešelj will begin on Monday 5 March 2012. Both parties have been invited to file their final trial briefs no later than 5 February 2012.
Both the Prosecution and the Accused have been allotted ten hours to deliver their closing arguments. Any requests from the Prosecution to present a rebuttal argument and from the Accused to respond to any such rebuttal will be considered after the delivery of closing arguments.
Vojislav Šešelj, the leader of the Serbian Radical Party, is on trial before the Tribunal for alleged war crimes and crimes against humanity committed between 1991 and 1994 against the non-Serb population from large parts of Bosnia and Herzegovina, Croatia and Vojvodina, Serbia. Šešelj's trial commenced on 7 November 2007.
Since its establishment, the Tribunal has indicted 161 persons for serious violations of humanitarian law committed on the territory of the former Yugoslavia between 1991 and 2001.  Proceedings against 126 have been concluded. Proceedings are currently open for 35 Accused.

*****
International Criminal Tribunal for the former Yugoslavia
For more information, please contact our Media Office in The Hague
Tel.: +31-70-512-8752; 512-5343; 512-5356 Fax: +31-70-512-5355 - Email: press [at] icty.org ()
Follow ICTY on Twitter and Youtube