| | |
| --- | --- |
| Press Advisory | |
| (Exclusively for the use of the media. Not an official document) |   |
The Hague, 24 March 2011
VE/MOW/PA420e
Vojislav Šešelj Rule 98bis Oral Decision To Be Rendered On 4 May 2011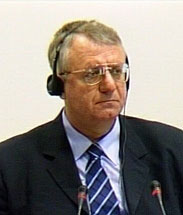 Vojislav Šešelj
Trial Chamber III will render its Rule 98bis oral decision in the case of Vojislav Šešelj at a hearing scheduled to be held on Wednesday, 4 May 2011 at 9:00 am in Courtroom I.
Vojislav Šešelj, the leader of the Serbian Radical Party, is on trial before the Tribunal for alleged war crimes committed between 1991 and 1994 against the non-Serb population from large parts of Bosnia and Herzegovina, Croatia and Vojvodina, Serbia.
Rule 98 bis of the Tribunal's Rules of Procedures and Evidence provides that an accused may file a motion for a judgement of acquittal on one or more offences charged in the indictment after the close of the Prosecutor's case. After hearing the oral submissions of the parties, the Trial Chamber can enter a judgement of acquittal on any count if it finds that the evidence presented by the Prosecution is insufficient to support a conviction.
Šešelj's trial commenced on 27 November 2006. Rule 98bis hearing was held from 7 March to 9 March 2011.
Since its establishment, the Tribunal has indicted 161 persons for serious violations of humanitarian law committed on the territory of the former Yugoslavia between 1991 and 2001.  Proceedings against 125 have been concluded. Proceedings are currently ongoing for 34 accused.
*****
Media representatives wishing to attend the hearing are advised to accredit with the Press Office at press [at] icty.org and provide the full name of the journalist and the media outlet. A separate Press Advisory regarding the accreditation procedure with further instructions will be sent out in due course. 
Media representatives not able to attend the hearing can follow proceedings on the Tribunal's website. Please contact the Press Office at
 +31 70 512 8752 to request satellite broadcast.
An information sheet on the case can be found at:
http://www.icty.org/x/cases/seselj/cis/en/cis_seselj_en.pdf
The indictment is available at:
http://www.icty.org/x/cases/seselj/ind/en/seslj3rdind071207e.pdf
The full video of the hearing will be made available on the ICTY's YouTube channel shortly after the hearing has ajourned.
*****
International Criminal Tribunal for the former Yugoslavia
For more information, please contact our Media Office in The Hague
Tel.: +31-70-512-8752; 512-5343; 512-5356 Fax: +31-70-512-5355 - Email: press [at] icty.org