(Exclusively for the use of the media. Not an official document)
The Hague, 29 May 2012

VE/MOW/PA499e

Vojislav Šešelj third Contempt of the Tribunal trial to be held on 12 June 2012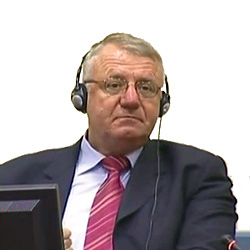 Vojislav Šešelj
The trial in the third contempt of Tribunal case of Vojislav Šešelj has been scheduled to start on Tuesday, 12 June 2012 at in Courtroom I following immediately the pre-trial conference which will start at 9:00.
Šešelj, the leader of the Serb Radical Party currently standing trial at the Tribunal for alleged war crimes committed in Bosnia and Herzegovina, Croatia and Vojvodina, Serbia between 1991 and 1994, is accused offailing to remove confidential information from his personal website in violation of orders of a Chamber.
The confidential information published by Šešelj on his website includes four books authored by the Accused and six confidential filings submitted by him as part of his main trial and one previous trial for contempt of court. These books and filings reveal confidential information about a number of protected witnesses who testified in his main trial before the Tribunal for alleged war crimes.
Šešelj will be the only witness in the case and he will be examined by his legal adviser Dejan Mirović. The examination-in-chief of Šešelj will take no longer than two hours.
*****
Amended order in lieu of indictment
The trial will be broadcast with a 30 minute delay on the Tribunal's website
*****
International Criminal Tribunal for the former Yugoslavia
For more information, please contact our Media Office in The Hague
Tel.: +31-70-512-8752; 512-5343; 512-5356 - Email: press [at] icty.org ()
Follow ICTY on Twitter and Youtube