| | |
| --- | --- |
| Press Advisory | |
| (Exclusively for the use of the media. Not an official document) |   |
The Hague, 11 March 2010
CT/MOW/PA395e
Zuhdija Tabaković Trial to Begin on 15 March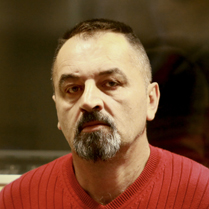 Zuhdija Tabaković
The trial of Zuhdija Tabaković, charged with contempt of court committed during the trial of Milan and Sredoje Lukić, has been scheduled for Monday, 15 March 2010 at 9:00 in Courtroom I.
Tabaković is charged with six counts of contempt of the Tribunal. The indictment alleges that in October 2008, the accused was approached by Milan Lukic's defence "case manager" Jelena Rasić and asked to sign a pre-written statement even though he did not witness the events nor did he have any knowledge of the events described in the statement. It is alleged that once he signed the statement and the signature was certified at the Novi Grad Municipality building in Sarajevo, Rasić gave Tabaković an envelope containing 1,000 euros and stated he would be paid more money once he testified. The statement was then submitted as Rule 65ter evidence in November 2008 and the statement was provided to OTP in full in January 2009.
During the same meeting, it is alleged that Rasić presented Tabaković with two other pre-written statements asking him to find two other men to sign the false statements and testify. Rasić said that she would also pay each man 1,000 Euros and more once they testified.  A few days later the indictment alleges that Tabaković found two men willing to sign and testify to the false statements and once their signatures were certified at the Novi Grad Municipality building, they were given envelopes containing money by an associate of Rasić. The indictment alleges that Tabaković knew neither of these men had any knowledge of the events recorded in the statements. These statements were also submitted to OTP in January 2009.
The Indictment against Tabaković was filed confidentially on 30 October 2009 and confirmed on 17 November 2009. A public redacted version of the indictment was filed on 22 December 2009.
Tabaković was transferred to the seat of the Tribunal on 18 December 2009 and at his initial appearance on 21 December 2009 pleaded not guilty to all six counts of contempt.
*****
International Criminal Tribunal for the former Yugoslavia
For more information, please contact our Media Office in The Hague
Tel.: +31-70-512-8752; 512-5343; 512-5356 Fax: +31-70-512-5355 - Email: press [at] icty.org