| | |
| --- | --- |
| Press Advisory | |
| (Exclusively for the use of the media. Not an official document) |   |
The Hague, 1 May 2009
NJ/MOW/PA368e
Mrkšić et al. Appeals Judgement To Be Rendered On 5 May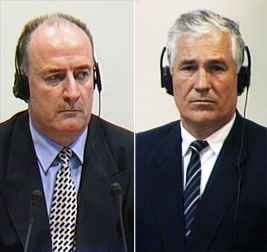 Veselin Šljivančanin and Mile Mrkšić
The Appeals Chamber judgement in the case of Mile Mrkšić and Veselin Šljivančanin, former senior officers in the Yugoslav People's Army (JNA) convicted for their part in the executions of prisoners of war after the fall of Croatian town of Vukovar in 1991, will be rendered on 5 May at 14:15 in courtroom I.
In September 2007 the Trial Chamber found Mrkšić, a JNA Colonel, guilty and sentenced him to 20 years' imprisonment for




aiding and abetting
the crimes of
murder and torture and for
cruel treatment of 194 non-Serb prisoners of war taken from Vukovar Hospital following the town's fall to JNA and Serb paramilitary forces in November 1991. The victims were transported to a farm building in nearby Ovčara where they were beaten, tortured and murdered.
The Trial Chamber found Šljivančanin, a JNA major at the time, guilty of




aiding and abetting torture of the prisoners and sentenced him to five years' imprisonment.
The third accused, former JNA captain Miroslav Radić, was acquitted of all charges and was released from Tribunal custody.
Mrkšić was found guilty of aiding and abetting the murders as he withdrew the JNA soldiers guarding the prisoners, with the consequence that Serb Territorial Defence and paramilitary forces were then able to murder them. JNA forces which he commanded had earlier established inhumane conditions of detention, and he failed to act effectively to ensure that the prisoners were properly protected.
Šljivančanin was found guilty of aiding and abetting torture because he failed to secure adequate JNA guards at Ovčara or to ensure that JNA guards at Ovčara under his authority acted to prevent the Serb forces from beating the prisoners.
Both the prosecution and the defence for Mrkšić and Šljivančanin filed their notices of appeal against the judgement on 29 October 2007.
The initial indictment against Mrkšić, Šljivančanin and Radić was issued on 7 November 1995. Mrkšić has been in the Tribunal's custody since 15 May 2002 and Šljivančanin since 1 July 2003. Šljivančanin is currently on provisional release pending the Appeals judgement. He is ordered to return to the Tribunal before 5 May 2009.
Since its establishment the Tribunal has indicted 161 persons for serious violations of humanitarian law committed on the territory of the former Yugoslavia between 1991 and 2001.  Proceedings against 117 have been concluded.







*****
An information sheet providing a review of the case can be found at:
http://www.icty.org/x/cases/mrksic/cis/en/cis_mrksic_al_en.pdf
The Trial Chamber judgement is available at:
http://www.icty.org/x/cases/mrksic/tjug/en/070927.pdf
Courtroom proceedings can be followed on the Tribunal's website at www.icty.org
The reading of the Summary of the Judgement will be carried live.
*****
International Criminal Tribunal for the former Yugoslavia
For more information, please contact our Media Office in The Hague
Tel.: +31-70-512-5343; 512-5356 Fax: +31-70-512-5355 - Email: press [at] icty.org