| | |
| --- | --- |
| Press Advisory | |
| (Exclusively for the use of the media. Not an official document) |   |
The Hague, 14 September 2009
VE/MOW/PA380e
Mičo Stanisić and Stojan Župljanin Trial to Start Today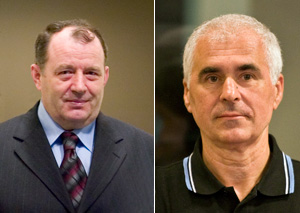 Mićo Stanišić and Stojan Župljanin
The trial of Mićo Stanišić and Stojan Župljanin, former high ranking Bosnian Serb officials, is scheduled to begin today at 14:15 in Courtroom I.
Mićo Stanišić and Stojan Župljanin are accused of persecution, extermination, murder, deportation and torture of non-Serb civilians in various areas of Bosnia and Herzegovina  between April and December 1992. 
Mićo Stanišić was Minister of the Serbian Ministry of Internal Affairs in Bosnia and Herzegovina (RS MUP), in charge of public and state security, a position which gave him overall control of all police and security structures of the Bosnian Serb entity, the indictment alleges.
 Stojan Župljanin was Mićo Stanišić's direct subordinate and the most senior police officer in the Autonomous Region of Krajina (ARK) in northwestern Bosnia and Herzegovina. He later became an advisor to Radovan Karadžić, former Bosnian Serb political leader also facing trial before the Tribunal.
According to the Indictment, Stanišić and Župljanin participated in a joint criminal enterprise whose primary objective was to permanently remove Bosnian Muslims, Bosnian Croats and other non-Serbs from the territory of the planned Serbian state.
Among the alleged members of this criminal enterprise were Momčilo Krajišnik, Radovan Karadžić, Biljana Plavšić, General Ratko Mladić, leading members of the Yugoslav Army (JNA)/Bosnian Serb Army (VRS) including General Momir Talić and leading members of regional and municipal crisis staffs including Radoslav Brđanin.
The two are alleged to have had effective control over the Serb forces which were involved in implementing the plan including, among others, members of RS MUP, Army of Republika Srpska (VRS), Yugoslav People's Army (JNA), Yugoslav Army (VJ) and Territorial Defence (TO).
Stanišić is alleged to be criminally responsible for crimes committed in a number of municipalities in northwestern, eastern, central and northeastern Bosnia and Herzegovina including Prijedor, Sanski Most, Brčko, Pale, Zvornik and Višegrad, Charges against Župljanin cover the municipalities of northwestern Bosnia and Herzegovina only including Prijedor, Banja Luka, Ključ, Skender Vakuf and Teslić. Thousands were either killed or forcibly transferred from their homes as a result of the campaign.
The indictment also enumerates more than 50 different detention facilities, including Omarska, Keraterm and Trnopolje camps, set up by Bosnian Serb forces where captives were beaten, tortured, sexually assaulted, humiliated, harassed and psychologically abused. Female detainees were raped and many captives were killed or died as a consequence of the mistreatment.
The Prosecution alleges that, as a consequence of their positions of superior authority over the Serb forces, Stanišić and Župljanin were not only aware of the crimes committed by their subordinates but also encouraged and facilitated the commission of these by failing to take necessary measures to prevent such acts and punish the perpetrators.
Mićo Stanišić and Stojan Župljanin were initially indicted by the Tribunal in 2005 and 1999 respectively. Mićo Stanišić surrendered and was transferred into the Tribunal's custody on 11 March 2005. Stojan Župljanin was arrested and brought to the Tribunal's Detention Unit in June 2008.
The Trial Chamber granted Porsecution's motion to join the two cases in September 2008. On 20 November 2008, both Accused pleaded not guilty to all charges.
Since its inception 15 years ago the Tribunal has indicted 161 persons for war crimes committed on the territory of the former Yugoslavia. The proceedings against 120 individuals have been completed.
Proceedings are currently open for 41 accused.  21 persons are at trial stage, 7 are awaiting trial judgement and 14 are before the appeals chamber. 4 persons are in custody and awaiting commencement of proceedings. Two accused, Ratko Mladić and Goran Hadžić, are at large awaiting arrest and transfer to The Hague for trial.
* * *
 Courtroom proceedings can be followed on the Tribunal's website at www.icty.org.
*****
International Criminal Tribunal for the former Yugoslavia
For more information, please contact our Media Office in The Hague
Tel.: +31-70-512-8752; 512-5343; 512-5356 Fax: +31-70-512-5355 - Email: press [at] icty.org