| | |
| --- | --- |
| Press Release | |
| (Exclusively for the use of the media. Not an official document) |   |
The Hague, 5 November 2009
NJ/MOW/1337e

Trial Chamber Orders Appointment of Counsel in the Case of Radovan Karadžić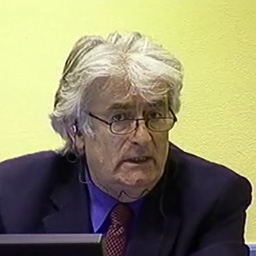 Radovan Karadžić
The Trial Chamber today issued a decision in which it instructed the Registrar to appoint a counsel to prepare to represent the interests of Radovan Karadžić at trial.
It further determined that the appointed counsel be given three and a half months to prepare for trial, thus scheduling the resumption of trial for 1 March 2010.
The trial of Radovan Karadžić started on 26 October 2009 but the accused did not appear for the scheduled commencement of trial claiming his defence was not ready despite the Trial Chamber's and Appeal Chamber's decisions stating that he had been given adequate time.
The Trial Chamber warned the Accused on 22 October, 26 October, 27 October, and again on 2 November, that the consequence of his obstructive conduct could be the assignment of counsel to him and the continuation of the proceedings without him.  An administrative hearing was held on 3 November at which parties were invited to make submissions on the future proceedings of trial.
"No counsel, not even the most experienced and efficient, could reasonably be expected to be in a position to assist the Accused and, by extension, the trial process, without sufficient, albeit defined, preparation time," the Trial Chamber found.  "Thus, there will need to be a delay of some months before the trial can resume, if it does so with a form of appointed counsel."
The Chamber's decision to appoint counsel follows its conclusion that Karadžić had "substantially and persistently obstructed the proper and expeditious conduct of his trial by refusing to attend the proceedings until such time as he considers himself to be ready".
However, considering the fundamental nature of the right to self-representation the Accused will continue to represent himself, including by dealing with the day-to-day matters that arise, such as the filing of motions and responses to motions filed by the Prosecution, and further preparing himself for the trial.
Should the Accused continue to absent himself from the resumed trial proceedings in March, or should he engage in any other conduct that obstructs the proper and expeditious conduct of the trial, he will forfeit his right to self-representation, no longer be entitled to assistance from his assigned defence team, and the appointed counsel will take over as an assigned counsel to represent him, the Trial Chamber found. 
Should Karadžić not engage in such conduct, the trial will proceed with the Accused continuing to represent himself and the appointed counsel will attend the proceedings and remain available to step in at any time the Chamber determines it to be necessary.
****
The full text of the decision is available on the Tribunal's website at
http://www.icty.org/x/cases/karadzic/tdec/en/091105.pdf
*****
International Criminal Tribunal for the former Yugoslavia
For more information, please contact our Media Office in The Hague
Tel.: +31-70-512-8752; 512-5343; 512-5356 Fax: +31-70-512-5355 - Email: press [at] icty.org