| | |
| --- | --- |
| Press Advisory | |
| (Exclusively for the use of the media. Not an official document) |   |
The Hague, 9 November 2009
CT/MOW/PA385e
Dragomir Milošević Appeals Chamber Judgement to be Rendered on 12 November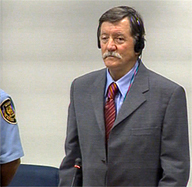 Dragomir Milošević
The Appeals Chamber is scheduled to render its judgement in the case of Dragomir Milošević, a former Bosnian Serb Army General, on Thursday, 12 November 2009 at 9:00 in Courtroom I.

On 12 December 2007, the Trial Chamber found Milošević guilty and sentenced him to 33 years' imprisonment for crimes committed against civilians during the final months of the 1992-1995 siege of Sarajevo. He was found guilty of crimes against humanity and of a violation of the laws or customs of war. He was convicted on five counts of terror, murder and inhumane acts conducted during a campaign of sniping and shelling which resulted in the injury and death of a great number of civilians in the besieged Bosnian capital. Two counts of unlawful attacks against civilians were dismissed.

According to the indictment, Dragomir Milošević served as Chief of Staff to Stanislav Galić whom he then succeeded as Corps Commander of the Sarajevo Romanija Corps (SRK) on or about 10 August 1994. The Sarajevo Romanija Corps formed a significant part of the Bosnian Serb Army under the ultimate command of General Ratko Mladić and Radovan Karadžić. The Prosecution alleged that under his command the SRK implemented a military strategy, which used shelling and sniping to kill, injure, and spread terror among the civilian population of Sarajevo. The shelling and sniping killed and wounded thousands of civilians of both sexes and all ages, including children and the elderly.

Both the Prosecution and the accused appealed the Trial Chamber judgement. The Appeals hearing took place on 21 July 2009.

Dragomir Milošević was indicted on 24 April 1998. He surrendered on 3 December 2004, and stood trial from 11 January 2007 to 10 October 2007.

Since its inception 16 years ago, the Tribunal has indicted 161 persons for war crimes committed on the territory of the former Yugoslavia. The proceedings against 120 individuals have been completed.

Proceedings are currently open for 41 accused with 24 at trial stage, seven awaiting trial judgement and 14 before the Appeals chamber. Zdravko Tolimir is the only remaining Accused in custody, awaiting the commencement of trial. Two accused, Ratko Mladić and Goran Hadžić, are at large awaiting arrest and transfer to The Hague for trial.
*****
International Criminal Tribunal for the former Yugoslavia
For more information, please contact our Media Office in The Hague
Tel.: +31-70-512-8752; 512-5343; 512-5356 Fax: +31-70-512-5355 - Email: press [at] icty.org