| | |
| --- | --- |
| Press Release | |
| (Exclusively for the use of the media. Not an official document) |   |
The Hague, 7 July 2011
VE/MOW/PR1425e
 

  Johan Tarčulovski Transferred to Germany to Serve Sentence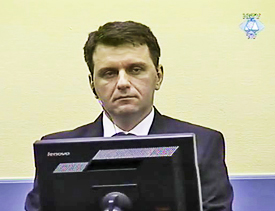 Johan Tarčulovski
Johan Tarčulovski, a former police officer of the Former Yugoslav Republic of Macedonia (FYROM), was transferred today to Germany to serve his 12-year sentence for crimes committed against ethnic Albanians during the conflict in FYROM in 2001.
On 19 May 2010, the Appeals Chamber affirmed his conviction of having ordered, planned and instigated crimes committed against ethnic Albanians during a police operation conducted on 12 August 2001 in the village of Ljuboten in the northern part of the FYROM. Tarčulovski was found guilty of the murder of three ethnic Albanian civilians, the wanton destruction of twelve houses or other property and the cruel treatment of thirteen ethnic Albanian civilians.
The Appeals Chamber dismissed all grounds of appeal and upheld his sentence of 12 years' imprisonment.
His co-accused in the case, Ljube Boškoski, Minister of Interior of the FYROM from May 2001 until November 2002, was acquitted by both the Trial and Appeals Chamber.
This is the only case related to the conflict in the territory of the FYROM to have been heard by the ICTY.
On 23 August 2010, the President of the Tribunal issued his decision, designating Germany as the State in which Tarčulovski is to serve his sentence. Tarčulovski is the fourth convicted person to be transferred to Germany. The Tribunal commends the German authorities for their continued support in ensuring the enforcement of the Tribunal's sentences.
The Tribunal takes this opportunity to emphasise the crucial role that Member States play in enforcing its sentences. Since its inception 18 years ago, the Tribunal has indicted 161 persons for serious violations of humanitarian law committed on the territory of former Yugoslavia between 1991 and 2001. Proceedings against 126 persons have been concluded.  To date, the Tribunal has signed agreements on the enforcement of sentences with 17 States. To ensure the successful completion of its mandate, the Tribunal calls upon Member States to assist it in securing additional enforcement capacity.

*****
Further information on the enforcement of sentences is available at the following link
An information sheet concerning the case is available at the following link
A copy of the President's Order can be found at the following link

*****
International Criminal Tribunal for the former Yugoslavia
For more information, please contact our Media Office in The Hague
Tel.: +31-70-512-8752; 512-5343; 512-5356 Fax: +31-70-512-5355 - Email: press [at] icty.org ()
Follow ICTY on Twitter and Youtube