| | |
| --- | --- |
| Press Release | |
| (Exclusively for the use of the media. Not an official document) |   |
The Hague, 1 November 2011
LJ/MOW/1458e

ICTY Prosecutor and OSCE say the justice system of Bosnia and
Herzegovina is capable of efficiently processing war crimes cases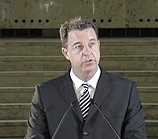 Serge Brammertz, ICTY Prosecutor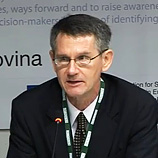 Fletcher Burton, Head of the OSCE Mission to Bosnia and Herzegovina
Serge Brammertz, Prosecutor of the International Criminal Tribunal for the former Yugoslavia (ICTY), and Fletcher M. Burton, the Head of the OSCE Mission to Bosnia and Herzegovina, have announced today in Sarajevo the successful completion of the Rule 11bis Monitoring Project.
The 11bis mechanism allowed the ICTY to transfer middle and lower level defendants back to the countries of the region.
"The successful completion of the cases transferred by the Tribunal to the Special Department for War Crimes and BiHState Court is an important achievement. The unique co-operation with the OSCE Mission in the trial monitoring has contributed to developing a strong enduring partnership between the OTP and local prosecutors, and ultimately to strengthening the capacity of the BiH judiciary," said Brammertz.
"The mechanism has been a great success both in terms of assisting the ICTY Completion Strategy and demonstrating that the country's Court and Prosecutor's Office have the necessary independence, professionalism and capacity to handle complex war crimes proceedings", said Burton.
In 2005–2010, the Mission on behalf of the ICTY's Office of the Prosecutor monitored six rule 11bis cases involving ten defendants to ensure that international standards were being met. Burton said the cases tested the ability of BiH's justice system to try complex war crimes cases in a fair and efficient manner. "Following detailed monitoring of all proceedings, the Mission concluded that the justice system is capable of processing war crimes cases in line with international and national standards," he added.
* * *
The Processing of ICTY Rule 11bis cases in BiH: Reflections on findings from five years of OSCE monitoring

*****
International Criminal Tribunal for the former Yugoslavia
For more information, please contact our Media Office in The Hague
Tel.: +31-70-512-8752; 512-5343; 512-5356 Fax: +31-70-512-5355 - Email: press [at] icty.org ()
Follow ICTY on Twitter and Youtube