| | |
| --- | --- |
| Press Release | |
| (Exclusively for the use of the media. Not an official document) |   |
The Hague, 7 June 2012
FS/OTP/1508e

Completion Strategy Report: Prosecutor Brammertz's Address before the Security Council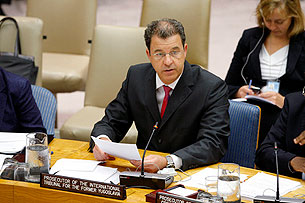 ICTY Prosecutor Serge Brammertz
The Prosecutor presented the 17th report of the Office of the Prosecutor (OTP) on the Completion Strategy to the Security Council. He addressed the progress toward the completion of the mandate, in particular, the status of trials and appeals, the cooperation with States of the former Yugoslavia and the OTP's support to national war crimes prosecutions.
Among the developments highlighted was progress in two of the most significant cases: Karadžić and Mladić. In Karadžić, the Prosecution completed its evidence presentation in just under the allocated 300 hours. The Mladić trial started on 16 May with the Prosecution's opening statement, less than one year after his arrest. The Prosecutor said that "after Mladić's 16 year run from justice, the start of his trial was a significant day for the Tribunal and for the many victims of the alleged crimes". By October this year, only three cases will remain in the trial evidence presentation stage and five trial judgements are expected by the end of this year.  
The Prosecutor also said that the OTP continues to face unprecedented demands on its resources and high rates of staff departure at critical times. As the Office is approaching its mandate completion, it is increasingly important to use resources flexibly and strategies must be put in place to promote the continued availability of staff.
According to the Prosecutor, day-to-day cooperation provided by states of the former Yugoslavia to the OTP fully meets expectations. The Prosecutor, however, remains concerned about Serbia's lack of progress towards investigating and prosecuting individuals who assisted ICTY fugitives while at large.
The Prosecutor underlined the importance of a successful transition from the OTP's work and expertise to national war crimes prosecutions in the former Yugoslavia. In this regard, the Prosecutor referred to the successful integration of liaison prosecutors from Serbia, Croatia and Bosnia and Herzegovina in the OTP to facilitate cooperation.
The Prosecutor also stated that there are serious problems in the implementation of national war crimes strategies, particularly in Bosnia and Herzegovina, where thousands of serious crimes still require follow-up. He said that unless it is made a top priority and more resources are allocated, the National War Crimes strategy in Bosnia and Herzegovina will fail. Moreover, the successful implementation of war crimes strategies requires greater regional cooperation, particularly between Serbia and Bosnia and Herzegovina.
The Prosecutor concluded by stating that "recent comments made by the newly elected President of Serbia who denied that genocide occurred in Srebrenica in July 1995 are not acceptable" and "contravene the legal and factual findings of the ICTY and the International Court of Justice". According to the Prosecutor "such rhetoric is a backwards step, aggravates the victims' suffering, and jeopardizes the fragile process of reconciliation in the former Yugoslavia".
 

*****

The full text of the Prosecutor's speech can be found at:

The latest Completion Strategy Report can be found at:
              
In English
In French

 
*****
International Criminal Tribunal for the former Yugoslavia
For more information, please contact our Media Office in The Hague
Tel.: +31-70-512-8752; 512-5343; 512-5356 - Email: press [at] icty.org ()
Follow ICTY on Facebook, Twitter and Youtube