| | |
| --- | --- |
| Press Release | APPEALS CHAMBER |
(Exclusively for the use of the media. Not an official document)
The Hague, 16 November 2012
VE/CS/PR1533e


Appeals Chamber affirms Jelena Rašić's contempt conviction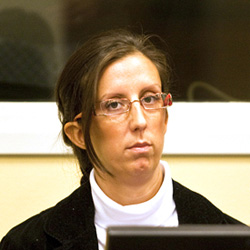 Jelena Rašić
The Appeals Chamber today affirmed the conviction of Jelena Rašić, former case manager of the Defence team of Milan Lukić, for contempt of the Tribunal and upheld her sentence of 12 months' imprisonment, dismissing the appeal of both the Prosecution and Defence in their entirety.
Rašić was sentenced on 7 February 2012 to 12 months' imprisonment for having knowingly and wilfully interfered with the administration of justice by procuring false witness statements in exchange for money. This conviction followed the acceptance by the Trial Chamber of a Plea Agreement filed jointly by the Prosecution and the Defence at a hearing at which Rašić pleaded guilty to all five counts of contempt set out in an amended indictment filed jointly by the parties on 24 January 2012.
In rendering its judgement, the Appeals Chamber also affirmed the Trial Chamber's decision to suspend the last eight months of the sentence and that Rašić would only have to serve this time if she were to be convicted for another crime punishable with imprisonment, including contempt of court, during a period of two years as of 7 February 2012. The Appeals Chamber noted that Rašić had already completed the custodial part of her sentence as she has been in detention for 147 days.
The first indictment against Rašić was filed confidentially on 9 July 2010 and made public on 22 September 2010. Rašić was transferred to the seat of the Tribunal on 20 September 2010 and at her initial appearance on 22 September 2010, she pleaded not guilty to all five counts of contempt. On 12 March 2012, the Prosecution filed its notice of appeal. The Defence filed its notice of appeal on 19 March 2012.
 * * *
*****
International Criminal Tribunal for the former Yugoslavia
For more information, please contact our Media Office in The Hague
Tel.: +31-70-512-8752; 512-5343; 512-5356 - Email: press [at] icty.org ()
Follow ICTY on Facebook, Twitter and Youtube