| | |
| --- | --- |
| Press Release | |
| (Exclusively for the use of the media. Not an official document) |   |
The Hague, 14 September 2009
NJ/MOW/PR1332e

Florence Hartmann Guilty of Contempt of Tribunal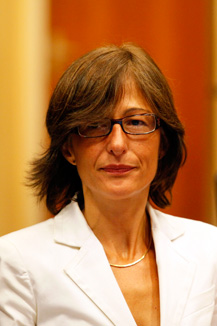 Florence Hartmann
The Specially Appointed Chamber today convicted Florence Hartmann of contempt of the Tribunal for disclosing confidential information in knowing violation of a court order.
She was sentenced to pay a fine of 7,000 Euros, in two installments of 3,500 Euros each, to be paid by 14 October and 14 November 2009 respectively.
Hartmann, a one-time spokesperson for a former Tribunal Prosecutor, disclosed the contents, purported effect and confidential nature of two Appeals Chamber Decisions from the Slobodan Milošević case in a book as well as an article authored by her in 2007 and 2008.
The Specially Appointed Chamber issued an Order in lieu of an Indictment charging Hartmann with two counts of contempt on 27 August 2008. At a further appearance before the court in November 2008, a plea of not guilty was entered on her behalf. The trial took place on 15, 16 and 17 June and 1 July 2009. Closing arguments were heard on 3 July 2009.
The Chamber dismissed the argument that the same information subject to the two Appeals Chamber Decisions was already put in the public domain by the Tribunal as well as the Applicant for the protective measures. Further, the Chamber underlined that "a decision remains confidential until a Chamber explicitly decides otherwise".
The fact that the accused spent six years in the capacity of the spokesperson of the Prosecutor meant that she was well aware of what the confidentiality of a decision entailed.
The Chamber further found the Accused's conduct could deter sovereign states from cooperating with the Tribunal where the provision of evidentiary material is concerned.
"This…impacts upon the Tribunal's ability to exercise its jurisdiction to prosecute and punish serious violations of humanitarian law as prescribed by its mandate," Judge Bakone Justice Moloto, presiding, said. "Public confidence in the effectiveness of protective measures, orders and decisions is vital to the success of the work of the Tribunal."
In determining the appropriate penalty the Chamber considered the need to deter future wrongful disclosure of confidential information by the accused or any other person but also the fact that some of the information published was already in the public domain.
The Tribunal regards the integrity of its decisions and safeguarding of its basic judicial functions as essential elements of the rule of law. Several persons who have attempted to interfere with the judicial process by revealing confidential information have been prosecuted.
*****
The full text of the summary of the Judgement can be found, in English, at:
http://www.icty.org/x/cases/contempt_hartmann/tjug/en/090914.pdf

An information sheet on the case can be found at
http://www.icty.org/x/cases/contempt_hartmann/cis/en/cis_hartmann_en.pdf

Courtroom proceedings can be followed on the Tribunal's website at
www.icty.org.
*****
International Criminal Tribunal for the former Yugoslavia
For more information, please contact our Media Office in The Hague
Tel.: +31-70-512-8752; 512-5343; 512-5356 Fax: +31-70-512-5355 - Email: press [at] icty.org