| | |
| --- | --- |
| Press Release | |
| (Exclusively for the use of the media. Not an official document.) |   |
The Hague, 2 December 2011
VE/CS/1463e

Trial Chamber adopts Prosecution proposal to reduce Ratko Mladić Indictment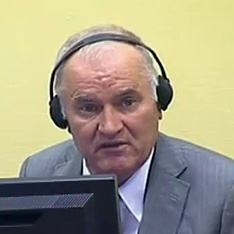 Ratko Mladić
The Trial Chamber today adopted the Prosecution's proposal to limit its presentation of evidence to a selection of 106 crimes, instead of 196 initially scheduled crimes in Ratko Mladić's indictment.
It also adopted the Prosecution proposal to limit the number of municipalities to 15 instead of 23.
"In the interests of a fair and expeditious trial, the Chamber fixes the number of crime sites or incidents of the charges in respect of which evidence may be presented by the Prosecution in accordance with the Prosecution Submission", ruled the Trial Chamber.
The Trial Chamber decided that the Prosecution may not present evidence on crimes other than those it has proposed to retain from the Operative Indictment, unless it considers such evidence necessary to establish an element of any of the counts of the indictment.
The Prosecution is to file an amended indictment and amended lists of victims within two weeks of the date of this decision.
* * *
Decision Pursuant to Rule 73BIS (D)
Case information and videos of proceedings

*****
International Criminal Tribunal for the former Yugoslavia
For more information, please contact our Media Office in The Hague
Tel.: +31-70-512-8752; 512-5343; 512-5356 - Email: press [at] icty.org ()
Follow ICTY on Twitter and Youtube