Outreach
Video: 15 Years of Outreach at the ICTY
Čakovec
|
15 September 2017
On 15 September 2017, the ICTY's Outreach Programme held a 'train the trainers' workshop in Čakovec, Croatia, for twelve high school history teachers. The workshop marked the beginning of the fifth cycle of the Tribunal's successful Youth Outreach Project and was organised in cooperation with the "Association for Education and Promotion of Human Rights".
Sarajevo
|
13 July 2017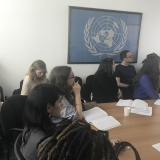 On 13 July 2017, 15 postgraduate students from New York University (NYU) visited the field office of the International Criminal Tribunal of the former Yugoslavia (ICTY) in Sarajevo, Bosnia and Herzegovina (BiH), for a briefing on the work of the Tribunal.
Sarajevo
|
27 June 2017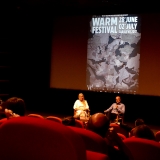 The Bosnian-Croatian-Serbian version of the ICTY Outreach Programme's latest documentary, Never justified: ICTY and the crime of torture, had its first public screening today at the "WARM Festival" in Sarajevo.