Outreach
Video: 15 Years of Outreach at the ICTY
Skopje
|
26 October 2017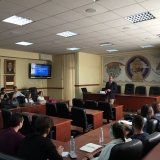 As part of the Tribunal's Youth Outreach Programme, Mr Amir Čengić, Legal Officer in the ICTY Appeals Chamber, delivered a lecture to a group of 40 students and staff of the Law Faculty of Saint Cyril and Methodius University in Skopje, Former Yugoslav Republic of Macedonia (FYROM) on 26 October 2017. The lecture concerned the ICTY practice in adjudicating war crimes, crimes against humanity, and genocide.
Sarajevo
|
13 October 2017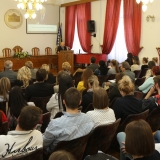 On 13 October 2017, ICTY Judge Fausto Pocar presented a lecture to students of the University of Sarajevo, explaining the vision behind the establishment of ICTY Information Centres in the region of the former Yugoslavia. Judge Pocar emphasised that such Centres will facilitate access to a digital database of ICTY records and provide a platform for education, research and other activities related to the rich legacy of the ICTY.
Čakovec
|
15 September 2017
On 15 September 2017, the ICTY's Outreach Programme held a 'train the trainers' workshop in Čakovec, Croatia, for twelve high school history teachers. The workshop marked the beginning of the fifth cycle of the Tribunal's successful Youth Outreach Project and was organised in cooperation with the "Association for Education and Promotion of Human Rights".