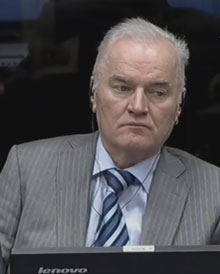 Ratko Mladić was Commander of the Bosnian Serb Army (VRS) Main Staff from 12 May 1992 until at least 8 November 1996.
The accused is indicted for two counts of genocide; five counts of crimes against humanity; four counts of violations of the laws or customs of war. Following his failure to plea, a plea of not guilty was entered on his behalf on 4 July 2011.
The pronouncement of the judgement in Mladić case shall take place on 22 November 2017 at 10:00 in Courtroom I of the Tribunal.
Case Information Sheet |  Press Releases | Videos | Selected Documents 
Note: videos of the Closing Arguments can be found here.
Timeline of the Mladić case