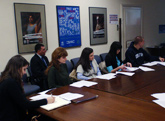 Zagreb, 18 January 2012
Two senior Tribunal officials today conducted a video-conference with a group of fifth-year students from the law faculty of the University of Zagreb. The video-conference – arranged by the Tribunal's Outreach office in The Hague – saw ICTY judge Stefan Trechsel speak about the self-representation of accused persons, and senior trial attorney Tom Hannis cover the differences between inquisitorial and adversarial systems of law.
The students were clearly fascinated by the presentations and followed up with a number of in-depth technical questions.
Dr Maja Munivrana Vajda, Assistant Professor of Criminal Law and International Criminal Law, said that the video-conference had been "very interesting and useful, both for my students and for me personally. It gave us the opportunity to learn from the experience of international legal experts. What I found particularly valuable was their openness to questions and willingness to share their personal opinions on various complicated problems of international criminal law."