Press Release

APPEALS CHAMBER
(Exclusively for the use of the media. Not an official document)
The Hague, 15 February 2013
VE/CS/PR1546e
Appeal Judgement in the case of Prosecutor v. Momčilo Perišić to be rendered on 28 February 2013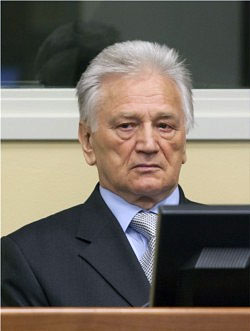 Momčilo Perišić
The Appeal Judgment in the case of Prosecutor v. Momčilo Perišić is scheduled to be rendered in Courtroom I of the Tribunal on 28 February 2013 at 3:00 p.m.
Momčilo Perišić is the former Chief of the General Staff of the Yugoslav Army. Perišić was found guilty by a majority of the Trial Chamber, Judge Moloto dissenting, of aiding and abetting murders, inhumane acts, persecutions on political, racial or religious grounds, and attacks on civilians between August 1993 and November 1995 in Sarajevo and Srebrenica.
A majority of the Trial Chamber, Judge Moloto dissenting, also found Perišić guilty, as a superior, for failing to punish murder, attacks on civilians, and inhumane acts related to the shelling of Zagreb that took place on 2 and 3 May 1995.
The Trial Chamber unanimously acquitted Perišić of aiding and abetting extermination in Srebrenica, and of superior responsibility for crimes in Sarajevo and Srebrenica.
The Trial Chamber sentenced Perišić to 27 years of imprisonment.
Perišić's trial began on 2 October 2008. Closing arguments were held from 28 to 31 March 2011. In the course of 198 trial days, the Trial Chamber considered evidence from a total of 136 witnesses, and admitted 3,797 exhibits into evidence. The Trial Judgement was delivered on 6 September 2011.
The Defence appealed the Trial Judgement, and requests that Perišić be acquitted on all grounds. The Prosecution did not file an appeal. The appeal hearing was held on 30 October 2012.
Since its establishment, the Tribunal has indicted 161 persons for serious violations of humanitarian law committed on the territory of the former Yugoslavia since 1991. Proceedings against 134 accused individuals have been concluded. Proceedings are currently ongoing for 27 accused.
****
Case information

The Judgement will be broadcast live on the Tribunal's website
The Spokesperson for Registry and Chambers, Magdalena Spalińska,
can be reached on +31 (0)6 5127 1242 or +31(0)70 512 5066 and spalinska [at] un.org
For further information please call the Media Office at +31 (70) 512-8752 or -5343 or - 5356.
*****
International Criminal Tribunal for the former Yugoslavia
For more information, please contact our Media Office in The Hague
Tel.: +31-70-512-8752; 512-5343; 512-5356 - Email: press [at] icty.org
Follow ICTY on Facebook, Twitter and Youtube